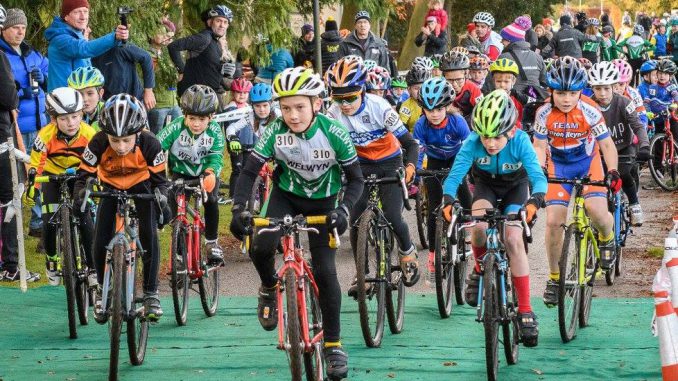 The Wheelers cyclo-cross riders had a choice of two events on Sunday – the Eastern League at Colchester or the Central League at RAF Halton in the Chilterns. Most riders decided to go to RAF Halton event. The course had been revised compared to last year by the addition of a large 'sand trap', a different start area and a few more climbs. Riders had to carry their bikes through the sand trap as riding through on the soft sand was impossible.
Henry Landon finished just 7 seconds behind the winner of the under 10 race to take second place with Xavier Knott 4th and Megan Hughes 10 (second girl), George Nutall 14,Josephine Davies 16th Fin Woodliffe was second and Rupert Cavill 3rd in the under 12 category followed home by Dillon Knott 8th, William Pollard 13, Tom Dixon 16. Lena Alford 24, Elice Whitaker 25th.
Euan Woodliffe took a comfortable victory in the under 14 race with a winning margin of well over a minute. Beth Bennett and Sasha Blendis were 3rd and 4th in the girls race.
Archie Peet was second in the under 16 race with Charles Rollins 8 and Louis Sutton 11th. Ellen Bennett second and Eva McCabe 5th in the girls event. Molly Marriott was brought down in a crash with a senior rider but recovered to finish. There were a large number of punctures in this race and the over 40s event most caused by a metal edge on one of the corners.
Jamie Dene was on good form in the Junior boys category with 2nd place.The Womens race had 41 riders in the various age band groups – Freya Butler was second junior girl.
Caelen Miller chose to ride in the London League race and won the under 14 event.
Six Wheelers riders travelled to the Eastern race at Colchester – the top performers were Daniele Elliot first in the under 8 race while Dylan Starkey won the under 12 race.
On Thursday evening a group of Wheeler youth riders competed in the second round of the winter Track League event at Stratford Olympic track – Archie Peet, Euan Woodliffe, Joe Kiely, Tom Sharples, Caelen Miller, Tom Dixon and the Moir duo. They all rode well came away with some great results – Tom is now the points leader in the under 14 series
This coming weekend a number of riders will travel to the Gravesend Velo Park for Round 4 of the BC CX series. Oli Stockwell currently leads the under 16 group and Euan Woodliffe is second on the Under 14 series.
 Reults Summary – R9 RAF Halton 
U8 boys
Alastair Davis 11th
U10 girls
Megan Hughes 2nd
Josephine Davis 4th
U10 boys
Henry Landon 2nd
Xavier Knott 4th
George Nuttall 11th
U12 girls
Lena Alford 10th
Elise Whitaker 11th
U12 boys
Finlay Woodliffe 2nd
Ruport Cavill 3rd
Dillon Knott 6th
William Pollard 8th
Thomas Dixon 9th
U14 girls
Beth Bennett 3rd
Sasha Blendis 4th
U14 boys
Euan Woodliffe 1st
Jeremy Landon 19th
U16 girls
Ellen Bennett 2nd
Eva McCabe 5th
Molly Marriott 7th
U16 boys
Archie Peet 2nd
Charles Rollins 8th
Louis Sutton 11th
Tom Sharples DNF
Rizwan Hameed DNF
Junior girls
Freya Butler 3rd
Junior boys
Jamie Dean 2nd
Senior men
Ben Smith 57th
Vet Men 40-49
James Robertson 35th
Robert Dixon 77th
John Cavill DNF
Peter