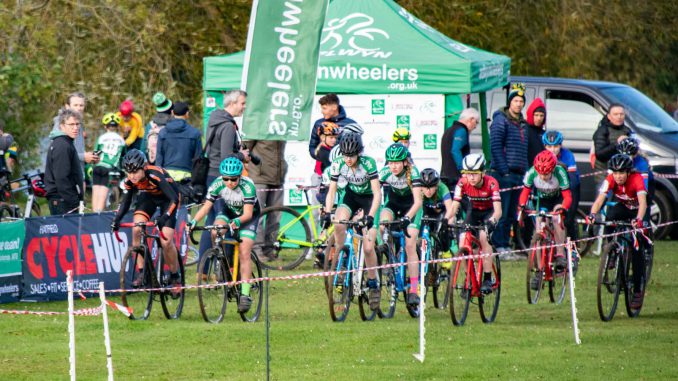 Thanks to the amazing efforts of the Welwyn volunteers, cyclo-cross made a successful return to Stanborough Park on Sunday as the club hosted round 4 of the Eastern CX league. The weather was kind and a well-run event led by organiser Alex Peeke led to lots of nice comments from happy racers and spectators alike. It was also great to see a number of new faces amongst the volunteers helping with setup in the days leading up to the event.
The pick of the Welwyn Wheelers racing results came from Mark Lightfoot, who finished 1st junior and 4th overall in the senior race, a day after winning on the road at the Colchester Northern Gateway circuit; William Pollard, overall Youth winner; and Lucy Allsop, 1st Youth Girl.
Six racers from the youth squad made the long journey to Falkirk for round 3 of the National Trophy series on Saturday where Leon Atkins won again to further consolidate his series lead and Oliver Beale had another top 10 finish in the U14 boys category. Raced on a windy technical course Leon had to overcome a dramatic mechanical issue with his rear mech becoming wrapped in tape towards the end of the race, requiring a late bike-swap in the pits.
Cyclo-cross
Eastern League Round 4 Welwyn
Under 10s Boys and Girls
5. Marley Aldwinckle
8. Jack Paterson
9. Benjamin Halden
11. Savannah Sykes
13. Harry Peirce
14. Levi Lassman
15. Robert Nuttall
21. Zuri Lassman
Under 12s Boys and Girls
4. Daniel Elliott
7. Joshua Halden
11. Esmee Bone
17. Ollie Lynch
19. Edward Nuttall
21. Robert Shaughnessy
Youth
1. William Pollard Youth
5. Rupert Cavill Youth
6. Tom Pruett Youth
7. Finlay Woodliffe Youth
13. Lucy Allsop Yth/Girl (1st Girl)
20. Millie Coleman Yth/Girl (3rd Girl)
22. Elijah Storti Yth/U14
24. Rachel Halden Yth/U14/Girl
26. Elise Whitaker Yth/Girl
27. Henry Barker Yth/U14
37. Cerys Mitchell Yth/U14/Girl
Senior Women
3. Elspeth Grace
23. Elanor Cadzow
24. Rebecca Maynard
Senior and Junior Men
4. Mark Lightfoot
10. Robin Steer
16. Caelan Miller
40. Neil Grigson
Junior Men
1. Mark Lightfoot
3. Robin Steer
6. Caelan Miller
Veteran Men 40-49
26. James Robertson
33. Sean Mitchell
HSBC UK Cyclo-Cross National Trophy Series 2021/22 Round 3 Falkirk
Under 14 Girls Trophy
14. Isabel Beale
Under 14 Boys Trophy
1. Leon Atkins
8. Oliver Beale
Under 16 Girls Trophy
25. Ellie Mitchinson
Under 16 Boys Trophy
34. Ethan Storti
Road Circuit
Fiducia Wealth Management Colchester Centurion
Men's 3/4/J
1. Mark Lightfoot