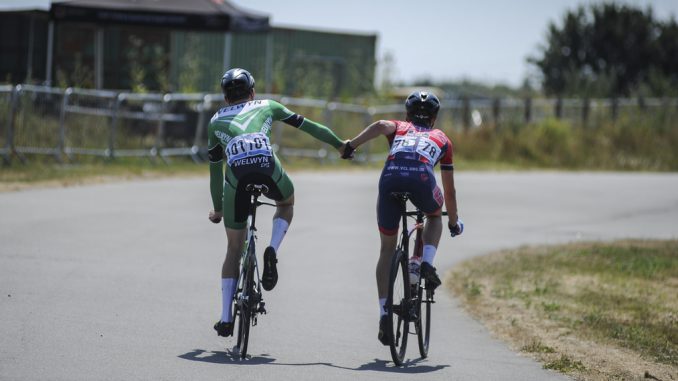 Welwyn Wheelers took their talented youngsters to a national event and watched as they claimed some impressive results.
The Youth Tour of London was the fourth event in the National Youth series and featured four stages spread across two days.
Day one took place in Redbridge and consisted of a one lap time trial and a blisteringly hot one hour circuit race while day two took the riders to Cyclopark in Gravesend, which started with a 20 minute sprint race before finishing with another circuit race. And by the end the general classification showed the Wheelers with one on the podium and another just missing out.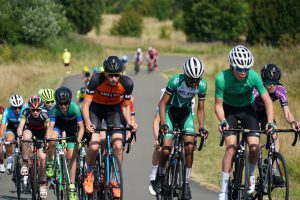 Euan Woodliffe was the man on the podium finishing 3rd overall in the 75 strong U14 category and 52 seconds behind the winner, Joshua Tarling of Backstedt Hot Chillee. He started the competition with a fantastic time trial that brought him second place and followed that up with a third place on stage two, ahead of teammates Caelen Miller in fifth and Callum Moir. A time bonus gave him the overnight lead but, although he finished second on stage 3, this time a time bonus gave the race lead to Ben Partridge of Hetton Hawks. Miller was 8th and he took fourth on the final stage to finish 7th overall. But the battle for the overall win between Woodliffe and Partridge was gatecrashed by a long loan Break by darling who snatched the title. Moir placed 35th overall.
In the U16 race Oli Stockwell came fourth overall, 30 seconds behind winner Joseph Pidcock and just two seconds behind a spot on the podium. The race featured a total of 98 riders and started with Joe Kiely taking seventh on stage one and both he and teammate Archie Peet were on the attack early in Stage 2. That ended with Stockwell taking fifth and Tom Sharples ninth. Stage 3 was where Stockwell made his move on GC and, together with VCL's Oscar Nilsson-Julien, managed to take nearly 30 seconds on the rest of the field. Stage 4 finished with Stockwell claiming another fifth place. The U16 race also featured Rizwan Hameed and Charlie Rollins while Iona Moir raced the U16 girls.