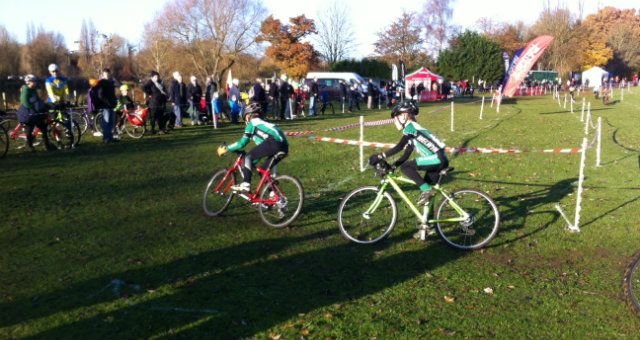 The Wheelers were hosts for Round 10 of the Central League cyclo-cross League on Saturday at Stanborough Park in ideal conditions . The event attracted a record entry of over 400 riders in the various age categories. Around 50 Wheelers members and parents were involved in making it a successful day in organising the days racing as course builders, marshals, race recorders, dealing with entries, catering and various other key roles. The course markers were on site at 06-30am and the course was ready for race 1 at 10-00am. The course was finally dismantled at around 3-30pm.
The Wheelers racing riders were in dominant form especially in the youth events – Rupert Cavill, Finlay Woodliffe and Dillon Knott opened the proceedings with a 1,2,3 in the under 10 event. Oliver Stockwell, Archie Peet and Joe Bennett took the top three places in the under 16 boys race while Imogen Chastell, Naomi Holt, Alice Mills and Holly Blaxsland were top 4 in the girls race.
In the under 14 race joe Kiely was the clear winner followed in by Euan Woodliffe 2nd with Ellen Bennett 3rd in the girls race.
Sophia Chastell was second and Rachel Dunne third in the Womens race which had a good number of riders.
The three senior events had a massive number of competitors – 80 in the 40+ race, 65 in the 50+ event and more than 60 in the last race of the day for senior riders. Keith Stockwell was 10 in the 40+ race with John Cavill 21st and Steve Dunne 22nd
Other notable performances – Xavier Knott 2nd in the under 8 category of 23 riders, Tom Dixon 12th and Beth Bennett 3rd girl – under 12 event, Gwill Park and Nathen Blackmore 2nd and 4th in the Junior race.  A good days racing and a well organised event by the Wheelers
The following day at Ipswich was Round 4 of the British Cycling Cyclo-cross national series and nine Wheelers were there and on good form. Oliver Stockwell was an excellent 4th place in the 44 strong under 16 riders with Archie Peet 27th. In the under 14 group Joe Kiely was 5th, Tom Sharples 13th and Euan Woodliffe 15th
Michal Parry 11th in the Junior race and Lauren Higham a good 5th place in the under 16 girls event.
Elspeth Grace had another storming ride in the Elite Womens race of 32 riders – three riders opened up a lead and Elspeth was part of a 4 up group battling it out for 4th place and in tight rush for the line finished overall in 5th place.
Peter