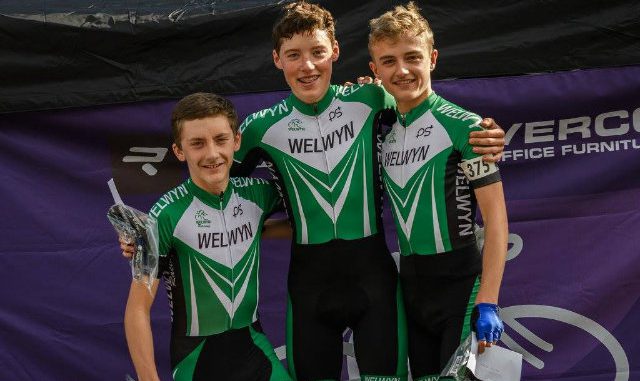 Plenty of competitive activities for the club cyclo-cross riders at the weekend.
Round 2 of the Central League at Milton Keynes bowl on Saturday 30th September saw at least 40 Wheelers riders in action.
Star performance of the day was top 4 places in the Under 16 race led in by Oli Stockwell, Joe Kiely, Archie Peet and Tom Sharples. Euan Woodlife was next across the line having won the under 14 boys event by well over a minute and he was followed home by new member Charles Rollins 6th in the U16 event. Beth and Ellen Bennett were third in the Under 14 and under 16 girls category while elder brother Joe was 4th in the Junior boys race.
Dylan Starkey was third in the under 12 race followed in by Fin Woodliffe and Rupert Cavill 4th and 5th, Dillon Knott 7th and Tom Dixon 11th plus three additional club riders.
Six riders in the under 8/10 event with Xavier Knott in 9th place followed by Henry Landon who led the race in the final lap when his tyre rolled off – he ran to the finish and took 10th place.
In the Senior events Keith Stockwell – 9th in the 40+ race which had 90 riders with John Cavill 36th and Tom Hinchliffe 40th.
Chris Murphy finished 44th in the 50 + category of 72 riders and Simon Cragg was 39th in the Senior race. Laurence Davis was 2nd and Rob Dixon 11th out of 29 riders in the Novice category.
On Sunday 1st October 12 club riders were at Colchester for the Eastern League event – Oli Stockwell won the Youth race with Euan Woodliffe 4th (1st Under 14). Elspeth Grace was second in Womens race (1st senior) and Rupert Cavill was third in the under 12 race, Nathan Blackmore was 2nd Junior in the final race. Keith Stockwell was 11th in the 40 + event
This weekend a number of the top youth riders will be at Derby For Round 1 of the BC National series while the rest of the club riders will be either ride the Eastern League event run by CC Ashwell event or the Central race at Leighton Buzzard – unfortunately both events are on Sunday
Peter