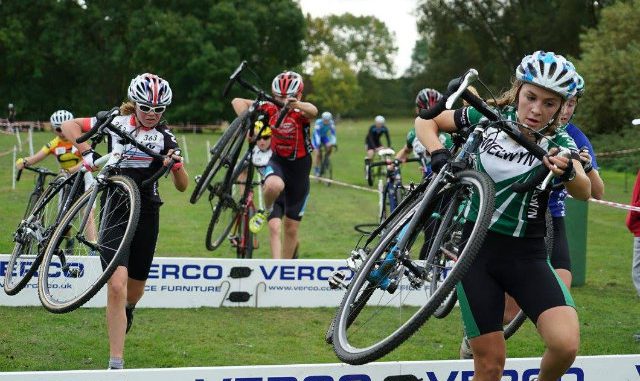 A great cyclo-cross event at Stanborough Park on Saturday 23rd.
Good weather, a sporting course, a massive number of riders for Round 1 of the Central League hosted by the club.
A record number of well over 450 riders which included fifty club members and parents, many riding their first CX race, took part in the various age related races.
The race support team met at GSP at around 6-30am to load up the vast amount of equipment needed for the event. The course was in place by 8-00am and the the marshals, sign-on team and officials were all in place for the first race at 10-00 o'clock.
Seven club riders in the under 10 race of 24 riders – Henry Landon 7th while Daniell Elliot was 3rd in the under 8 race from 14 riders.
Dylan Starkey won the under 12 race with Fin Woodliffe 5th, Rupert Cavill 6th and Dillon Knott 9th.
The under 16 race was won in convincing style by Archie Peet followed by Tom Sharples 5th and Louis Sutton 9th, Ellen Bennett was the first under 16 girl. Laurence Davis was 3rd in the Novice category.
Euan Woodliffe was on good form winning the under 14 category.
The senior events all had massive numbers of riders – 88 in the 40+ category – including six club members – John Cavill was the leading club rider 28th.
The  11 riders in the Junior boys race produced a race long battle between former Wheeler Will Raymond who won by a few bike lengths from Joe Bennett with Nathan Blackmore in 4th spot.
There were 30 riders in the Womens race – Rachel Dunne finished in 13th position with Freya Butler and Naomi Holt 2nd and third Juniors.
The final race of the day – 57 riders for the 60 minute race – Simon Cragg riding his first CX race was 33rd.
The last race was completed by 3-30 and the dismantling team then set out to pack up all the equipment, clean up the site and return to base and some well earned refreshment.
A very busy day for the everyone, riders, marshals and the large number of helpers that made the event a great success.  A wonderful team effort.
On Sunday 10 Wheelers travelled to Basildon for Round 3 of the Eastern League race – Keith Stockwell was 10th in the 40+ race – Elspeth Grace won the Womens race.
Archie Peet second in the under 16 event and Euan Woodlife notched up his second win of the weekend in the under 14 event. Ellen Bennett first under 16 girl.
Dylan Starkey 4th and Fin Woodliffe 5th in the under 12 event.
Stop Press news – congratulations to Oli Stckwell and Joe Kiely who have been selected by BC to join the ODA group.
Peter