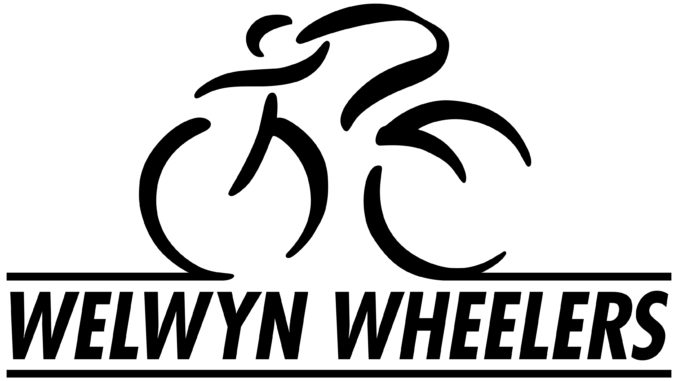 WELWYN TRACK LEAGUE – 3rd JULY 2015
Sponsored by Peloton Hatfield
Tony Gibb turns back the years
3/07/15 at Welwyn Wheelers track league meeting Sponsored by Peloton Hatfield and supported by Herts County Council.
The senior A racing was dominated by Tony Gibb (Full Gas Racing Team) who eased to wins in all races and took the senior closing 10 mile race.
Ryan Green (Lee Valley) returned this week taking convincing wins in the senior B scratch and points race. Green made a tactical error in the Devil going out very early.
The youth AB racing was dominated by Louis Bilyard (Lee Valley) winning every race on offer for his age group.
Tom Sharples (Welwyn Wheelers) won all the youth CDE races apart from the handicap, for the third week running.
 Senior A
10 lap Scratch – Tony Gibb (Full Gas RT) John McClelland (Bush Healthcare CRT) William Raymond (Welwyn Wheelers) Adrian Ward (Shaftesbury)
15 Lap Points – Tony Gibb (Full Gas RT) John McClelland (Bush Healthcare CRT) William Raymond (Welwyn Wheelers) Gavin Daley (NA)
Devil – Tony Gibb (Full Gas RT) John McClelland (Bush Healthcare CRT) Connor Woodford (Willesden CC) William Raymond (Welwyn Wheelers)
10 Mile Scratch – Tony Gibb (Full Gas RT) John McClelland (Bush Healthcare CRT) Gavin Daley (NA) Adrian Ward (Shaftesbury)
 Senior B
10 lap scratch – Ryan Green (Lee Valley) Andy Digby (Welwyn Wheelers) Ben Webster (Welwyn Wheelers) Nigel Stephens (Finchley RT)
10 Lap Points – Cai Davies (Welwyn Wheelers) Nigel Stephens (Finchley RT) Tom Durkin (Welwyn Wheelers) William Hare (Spalding)
12 Lap Points – Ryan Green (Lee Valley) Laurie Bone (Velo club Peloton) Andy Digby (Welwyn Wheelers) Bradley Clarke (Green Arrow CRT)
 Youth AB
8 Lap Scratch – Louis Bilyard (Lee Valley) Christian Manzi (Lee Valley) Nathan Blackmore (Welwyn Wheelers)
8 Lap points – Louis Bilyard (Lee Valley) Nathan Blackmore (Welwyn Wheelers) Christian Manzi (Lee Valley)
Devil – Louis Bilyard (Lee Valley) Christian Manzi (Lee Valley) Nathan Blackmore (Welwyn Wheelers)
7 Lap Handicap – Louis Bilyard (Lee Valley) Christian Manzi (Lee Valley) Oisin Murphy (Hillingdon Slipstreamers) Nathan Blackmore (Welwyn Wheelers)
 Youth CDE
3 lap Scratch – Tom Sharples (Welwyn Wheelers) Joe Kiely (Welwyn Wheelers) Michael Sumner (Welwyn Wheelers)
4 Lap Points – Tom Sharples (Welwyn Wheelers) Euan Woodliffe (Welwyn Wheelers) Michael Sumner (Welwyn Wheelers)
3 Devil – Tom Sharples (Welwyn Wheelers) Joe Kiely (Welwyn Wheelers) Michael Sumner (Welwyn Wheelers)
4 Lap Handicap – Caitlin Loveless (Hillingdon Slipstreamers) Max Jackson (Welwyn Wheelers) Jack Emerson (Colchester Rovers) Jenna Miles (Welwyn Wheelers)