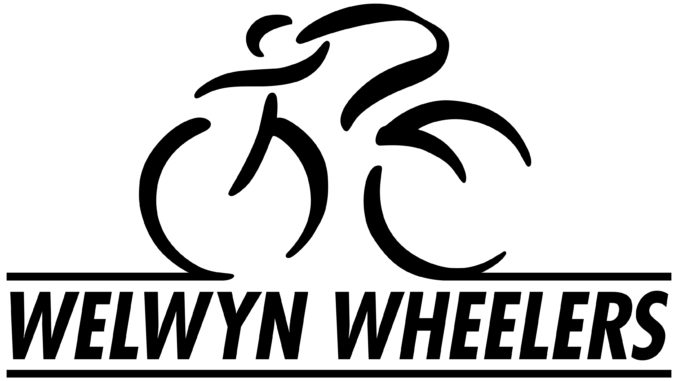 WELWYN TRACK LEAGUE – 17th JULY 2015
Sponsored by Peloton Hatfield
Charles Page takes the 10 
17/07/15 at Welwyn Wheelers track league meeting Sponsored by Peloton Hatfield and supported by Herts County Council. Saw 21 youth riders take to the track and 31 senior riders.
The senior A racing saw John McClelland (Bush Healthcare CRT) tighten his grip on the title wining all but the 10 miler. This race was taken by Charles Page (Edgeware RT) who out sprinted McClelland to take a somewhat shock win.
The senior B racing saw a battle throughout the night between Alex Pierce (Willesden CC) and James Ambrose- Parish (Lea Valley). Ambrose-Parish mostly came out on top, though an aggressive piece of riding saw Pierce take the win in the scratch race.
The youth AB racing gave Alexi Edwards (Palmer Park) a lesson in group riding. Edwards was by far the strongest rider on the night but in the block pursuit his efforts resulted in splitting up his team. By 4 laps to go he was on his own trying to beat a well drilled team of 6 riders. Sam Asker (Welwyn Wheelers) led this group over the line to take the win, with Edwards and the rest of his team failing to finish.
Tom Sharples (Welwyn Wheelers) won all the youth CDE races apart from the handicap race.
The Senior A madison which was due to take place on the 31/07/15 is going to be moved back two weeks to the 14/08/15. If able please sign up to ride, or come down and watch as it promises to be the best evening of the racing series.
Senior A
10 lap Scratch – John McClelland (Bush Healthcare CRT) Charles Page (Edgeware RC) Mitchell Powell (Team Terminator) Keith Bryceland (Welwyn Wheelers)
10 Lap handicap – John McClelland (Bush Healthcare CRT) William Raymond (Welwyn Wheelers) Charles Page (Edgeware RC) Ethan Vernon (Corley Drops RT)
Devil – John McClelland (Bush Healthcare CRT) Ethan Vernon (Corley Drops RT) Mitchell Powell (Team Terminator) Daniel Maynard (Endeavour RT)
10 Mile Scratch – Charles Page (Edgeware RC) John McClelland (Bush Healthcare CRT) Ethan Vernon (Corley Drops RT) Michael Parry (Welwyn Wheelers)
Senior B
10 lap scratch – Alex Pierce (Willesden CC) James Ambrose-Parish (Lee Valley) Sophie Lankford (Team WNT) Andy Digby (Welwyn Wheelers)
10 Lap Handicap – James Ambrose-Parish (Lee Valley) Alex Pierce (Willesden CC) Simon Keen (Crest CC) Bob Longstaff (Team Terminator)
Devil – James Ambrose-Parish (Lee Valley) Simon Keen (Crest CC) Andy Digby (Welwyn Wheelers)
Bob Longstaff (Team Terminator)
Youth AB
8 Lap Scratch – Alexi Edwards (Palmer Park) Sam Asker (Welwyn Wheelers) Archie Peet (Team MK)
1 Lap Dash – Millie Gage (Welwyn Wheelers) Alexi Edwards (Palmer Park) Billy Taylor (Lee Valley)
8 Lap Block Block Pursuit – Sam Asker (Welwyn Wheelers) Billy Taylor (Lee Valley) Lauren Higham (Welwyn Wheelers)
7 Lap Handicap – Alexi Edwards (Palmer Park) Millie Gage (Welwyn Wheelers) Sam Asker (Welwyn Wheelers) Archie Peet (Team MK)
Youth CDE
3 lap Scratch – Tom Sharples (Welwyn Wheelers) Michael Sumner (Welwyn Wheelers) Sammy Gage (Welwyn Wheelers)
4 Lap Block Pursuit – Tom Sharples (Welwyn Wheelers) Michael Sumner (Welwyn Wheelers) Joe Kiely (Welwyn Wheelers)
4 Lap Hare Fox & Hounds – Tom Sharples (Welwyn Wheelers) Joe Kiely (Welwyn Wheelers) Ben Griffin (Welwyn Wheelers)
4 Lap Handicap – Joseph O'Brien (Hillingdon SS) Max Jackson (Welwyn Wheelers) Caitlin Loveless (Hillingdon SS) Ben Griffin (Welwyn Wheelers)