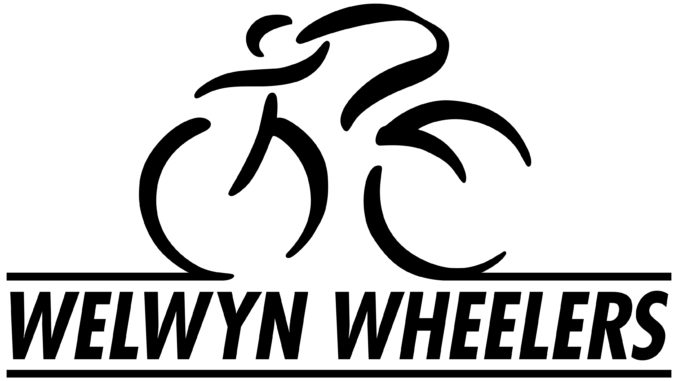 WELWYN TRACK LEAGUE – 8th MAY 2015
Sponsored by Peloton Hatfield 
Rain stops play
Due to the weather and some big race meetings over the weekend, the Welwyn track league saw a depleted field on Friday night with only 13 youth riders and 26 senior riders.
Despite the low numbers there was still plenty of competitive rides not least the 16 lap points race for the senior As which saw Andrew Hastings (Richardson's Trek RT) take the win.
Hastings also featured in the 3 man break – at around the 20 lap mark, in the 10 mile scratch race at the end of the meeting.  Hasting was joined by Joe Gorman (Full Gas) and Mike Broadwith (Arctic Tacx RT).  However a few laps later, with the trio having a half lap advantage on the rest of the main field, the heavens opened and the race had to be abandoned.  After some discussion between the judges and the chief commissaire it was agreed that the trio would not have been caught so were awarded 2 points each.
Home rider, Keith Bryceland (Welwyn Wheelers) finished the night on top in the senior B racing with some good riding to win the scratch race and get a close 2nd in the devil.
The youth A racing was dominated all night by Matthew Sheppard and Ben Selfe, both from Lee Valley, with very strong rides in all events including a very hard fought Keirin.
With only two youth B riders on the night, Ollie Stockwell (Welwyn wheelers) and Jamie Dene (Welwyn Wheelers) the racing was a rider on rider battle with Stockwell finishing on top every time.
The Keirin in the youth CDE, was one of the highlights of the night with a great ride by Joe Kiely (Welwyn Wheelers) to take third behind Jenna Miles (Welwyn Wheelers) and Michael Sumner (Welwyn Wheelers) respectively.
Senior A
10 lap Scratch – John McClelland (Bush Healthcare) George Olive (Finchley RT) Andrew Hastings (Richardson's Trek RT) Mike Broadwith (Arctic Tacx RT)
16 lap Points – Andrew Hastings (Richardson's Trek RT) Mike Broadwith (Arctic Tacx RT) John McClelland (Bush Healthcare) Simon Best (North Road)
10 Devil – George Olive (Finchley RT) John McClelland (Bush Healthcare) Joe Gorman (Full Gas) Mike Broadwith (Arctic Tacx RT)
10 mile (stopped at 20 laps due to rain) – Joe Gorman (Full Gas) Mike Broadwith (Arctic Tacx RT) Andrew Hastings (Richardson's Trek RT)
Senior B
10 lap scratch – Keith Bryceland (Welwyn Wheelers) James Ambrose-Parish (Lee Valley) Ben Webster (Welwyn Wheelers) Alex Pierce (Wilsden CC)
Unknown Distance – Simon Keen (Crest CC) James Ambrose-Parish (Lee Valley) Ben Webster (Welwyn Wheelers) Alex Pierce (Wilsden CC)
10 Devil – Alex Pierce (Wilsden CC) Keith Bryceland (Welwyn Wheelers) Toby Miles (Welwyn Wheelers) Simon Keen (Crest CC)
Youth A
5 lap Scratch – Matthew Sheppard (Lee Valley) Ben Selfe (Lee Valley) Nathan Blackmore (Welwyn Wheelers)
8 lap block pursuit – Ben Selfe (Lee Valley) Matthew Sheppard (Lee Valley)
Keirin – Matthew Sheppard (Lee Valley) Ben Selfe (Lee Valley) Nathan Blackmore (Welwyn Wheelers)
Youth B
4 lap Scratch – Ollie Stockwell (Welwyn Wheelers) Jamie Dene (Welwyn Wheelers)
4 lap pursuit – Ollie Stockwell (Welwyn Wheelers) Jamie Dene (Welwyn Wheelers)
Match Sprint – Ollie Stockwell (Welwyn Wheelers) Jamie Dene (Welwyn Wheelers)
Youth CDE
3 lap Scratch – Michael Sumner (Welwyn Wheelers) Jenna Miles (Welwyn Wheelers) Ted Brett (Welwyn Wheelers)
4 lap points – Joe Kiely (Welwyn Wheelers) Michael Sumner (Welwyn Wheelers) Jenna Miles (Welwyn Wheelers)
3 lap Keirin – Michael Sumner (Welwyn Wheelers) Jenna Miles (Welwyn Wheelers) Joe Kiely (Welwyn Wheelers)
Youth A, B, CDE
Handicap – Joe Kiely (Welwyn Wheelers) Michael Sumner (Welwyn Wheelers) Ollie Stockwell (Welwyn Wheelers) Jamie Dene (Welwyn Wheelers)