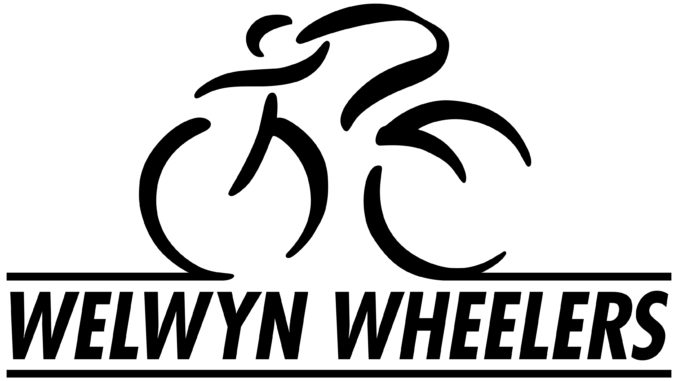 WELWYN TRACK LEAGUE – 5TH JUNE 2015
Sponsored by Peloton Hatfield
Frank Longstaff tightens his grip
05/06/15 at Welwyn Wheelers track league meeting Sponsored by Peloton Hatfield and supported by Herts County Council saw Frank Longstaff (Team Terminator) take a clean sweep of the senior A races and the 10 miler at the close of the meeting. This dominant display by Longstaff has helped him to close the gap on John McClelland (Bush Healthcare CRT).
 The Senior B racing had the unfortunate accolade of the first crash of the 2015 season with Jack Loveman (Verulum CC) taking a tumble in the first event of the evening. Loveman suffered only road rash but chose to take no further part in the evenings racing.
 Due to a rule change enforced by British Cycling (BC) a number of the Youth A riders road up into the senior B racing. This seemed to suit Ryan Green (Lee Valley) who won the senior B scratch and came third in the point's race.
 The rule change from BC also meant the youth A and Youth B class have now been put together as one. This did not faze Dexter Mansel-Thomas (Colchester Rovers) who took the win in the scratch race.
 Tom Sharples (Welwyn Wheelers) had a great night in the Youth CDE taking every event bar the last event of the evening, the handicap, which went to team mate Joe Kiely.
Senior A
10 lap Scratch – Frank Longstaff (Team Terminator) George Olive (Finchley RT) Mitchell Powell (Team Terminator) John McClelland (Bush Healthcare CRT)
15 Lap Points – Frank Longstaff (Team Terminator) Mike Broadwith (Artic Tacx) Mitchell Powell (Team Terminator) Simon Best (North Road)
6 Lap Block Pursuit – Frank Longstaff (Team Terminator) John McClelland (Bush Healthcare CRT) Mitchell Powell (Team Terminator) George Olive (Finchley RT)
10 Mile Scratch – Frank Longstaff (Team Terminator) John McClelland (Bush Healthcare CRT) Ethan Vernon (Corley Drops) George Olive (Finchley RT)
Senior B
10 lap scratch – Ryan Green (Lee Valley) Chris Burns (Welwyn Wheelers) Simon Keen (Crest CC) Andrew Perrin (Finchley)
12 Lap Points – Bradley Clark (Green Arrow CRT) Ben Webster (Welwyn Wheelers) Ryan Green (Lee Valley) Andrew Perrin (Finchley RT)
6 Lap Block Pursuit – Andrew Perrin (Finchley) Ben Webster (Welwyn Wheelers) Brett Travers (VC Revolution) Bradley Clark (Green Arrow CRT)
Youth AB
7 Lap Scratch – Dexter Mansel-Thomas (Colchester Rovers) Nathan Blackmore (Welwyn Wheelers) Reece Pollen (Welwyn Wheelers)
Devil – Nathan Blackmore (Welwyn Wheelers) Reece Pollen (Welwyn Wheelers) Dexter Mansel-Thomas (Colchester Rovers)
7 Lap Points – Reece Pollen (Welwyn Wheelers) Nathan Blackmore (Welwyn Wheelers) Archie Peet (Team MK)
6 lap handicap – Nathan Blackmore (Welwyn Wheelers) Reece Pollen (Welwyn Wheelers) Archie Peet (Team MK) Dexter Mansel-Thomas (Colchester Rovers)
Youth CDE
3 lap Scratch – Tom Sharples (Welwyn Wheelers) Joe Kiely (Welwyn Wheelers) Euan Woodliffe (Welwyn Wheelers)
Devil – Tom Sharples (Welwyn Wheelers) Joe Kiely (Welwyn Wheelers) Michael Sumner (Welwyn Wheelers)
0.5 Lap Dash – Tom Sharples (Welwyn Wheelers) Michael Sumner (Welwyn Wheelers) Jodie Taylor (Colchester Rovers)
4 lap handicap – Joe Kiely (Welwyn Wheelers) Tom Sharples (Welwyn Wheelers) Jodie Taylor (Colchester Rovers) Michael Sumner (Welwyn Wheelers)