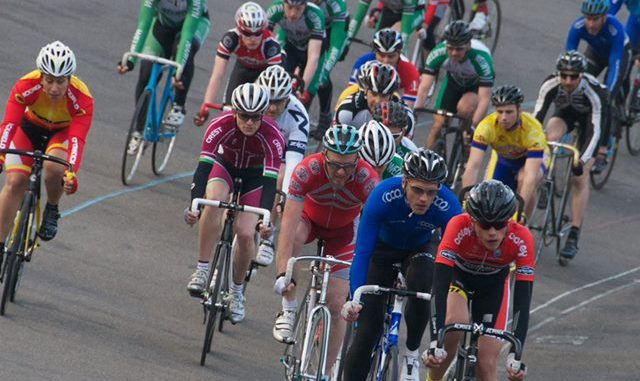 WELWYN TRACK LEAGUE – 24th April 2015
First track league meeting of the season dominated by Felix English
The 2015 track league season got underway on a rather chilly Friday night at Gosling Sports Park, but this did not hamper the quality of the riding on show.  There were good numbers for the first meeting of the season with 45 senior riders and 30 youth riders.
The senior A racing was dominated by Felix English riding for JLT Condon. He claimed a clean sweep winning all the senior A races including the closing 10 miler with a strong ride – riding off the front with a lap to go, holding off a very fast closing George Olive (Finchley RT) who claimed second.
Defending champion John McClelland (Bush Healthcare) had a mixed evening, with his best result taking third in the point's race.
In the senior B racing Ethan Vernon riding for Corley RT had a good evening picking up two wins from three and riding very strongly in the 10 lap scratch where he came second to Charles Page (Edgeware) after both pulled away from the main field with two laps to go.
In the youth racing it was a good night for the Welwyn Wheelers and Lee Valley riders.
In the youth A racing Ryan Green (Lee Valley) rode very strongly with his best ride in the scratch race where he attacked with 3 laps to go and held off the chasing pack to claim victory.
The youth B racing was controlled by Welwyn Wheeler Ollie Stockwell, who rode well to take the spoils in all but the point's race which was claimed by his team mate Sam Asker.
Welwyn Wheelers Tom Sharples rode well in the Youth CDE racing to finish the night on top of his age group.
Racing will commence again this coming Friday (weather permitting) and if the quality of racing is as good as it was this week it looks to be a competitive season ahead.
Senior A
10 lap scratch – Felix English (JLT Condon) Josh Roberts (Zappis RT) Mike Broadwith (Arctic Tacx) George Olive (Finchley RT)
10 lap points – Felix English (JLT Condon) Charles Page (Edgeware)  John McClelland (Bush Healthcare) Frank Longstaff (Team Terminator)
Devil – Felix English (JLT Condon) Charles Page (Edgeware)  John McClelland (Bush Healthcare) Joel Stewart (Kenton)
10 mile – Felix English (JLT Condon) George Olive (Finchley RT) Frank Longstaff (Team Terminator) John McClelland (Bush Healthcare)
Senior B
10 lap scratch – Charles Page (Edgeware) Ethan Vernon (Corley RT) Mostyn Crocket (Welwyn Wheelers) Brian Evans (Hertford Wheelers)
10 Lap Points – Ethan Vernon (Corley RT) Alex Pierce (Willesden) Mostyn Crocket (Welwyn Wheelers) Bradley Clarke (Green Arrow)
Devil – Ethan Vernon (Corley RT) Mostyn Crocket (Welwyn Wheelers) Alex Pierce (Willesden) Lawrence Lisher (Green Arrow)
Youth A
8 lap Scratch – Ryan Green (Lee Valley) Matthew Sheppard (Lee Valley) Toby Miles (Welwyn Wheelers)
Devil  – Ryan Green (Lee Valley) Ben Selfe (Lee Valley) Alexi Edwards (Palmer Park)
8 lap Points – Matthew Sheppard (Lee Valley) Ryan Green (Lee Valley) Ben Selfe (Lee Valley)
8 lap Handicap – Matthew Sheppard (Lee Valley) Alexi Edwards (Palmer Park) Nathan Blackmore (Welwyn Wheelers)  Ryan Green (Lee Valley)
Youth B
6 lap Scratch –  Ollie Stockwell (Welwyn Wheelers) Sam Asker (Welwyn Wheelers) Owen Williams (Lee Valley)
Devil  – Ollie Stockwell (Welwyn Wheelers) Oisen Murphy (Hillingdon) Sophie Lewis (CC Ashwell)
6 lap Points – Sam Asker (Welwyn Wheelers) Ollie Stockwell (Welwyn Wheelers) Adam Lighfoot (CC Ashwell)
6 lap Handicap – Ollie Stockwell (Welwyn Wheelers) Sam Asker (Welwyn Wheelers) Owen Williams ( Lee Valley) Jamie Dene (Welwyn Wheelers)
Youth CDE
3 lap Scratch –  Tom Sharples (Welwyn Wheelers) Jenna Miles (Welwyn Wheelers) Jodie Taylor (Colchester Rovers)
Devil  –  Tom Sharples (Welwyn Wheelers) Joe Kiley (Welwyn Wheelers) Jenna Miles (Welwyn Wheelers)
4 lap Handicap –  Jenna Miles (Welwyn Wheelers) Jack Emerson (Colchester Rovers) Jodie Taylor (Colchester Rovers) Tom Sharples (Welwyn Wheelers)
4 lap Points – Joe Kiley Jenna Miles Tom Sharples (All Welwyn Wheelers)
Paul Carter