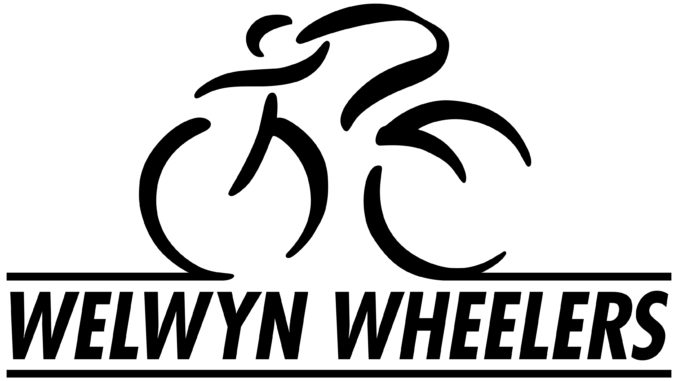 WELWYN TRACK LEAGUE – 19TH JUNE 2015
Sponsored by Peloton Hatfield
Jason Burrill takes the initiative
19/06/15 at Welwyn Wheelers track league meeting Sponsored by Peloton Hatfield and supported by Herts County Council saw 38 senior riders and 25 youth riders take part in fiercely contested racing.
The senior A saw some very competitive racing with Tony Gibb (Full Gas racing) and Frank Longstaff (Team Terminator) taking most of the spoils. Gibb took the point's race by the scruff of the neck ridding just under half the race off the front on his own.
The 10 miler saw a great win for Jason Burrill (Peterborough CC) attack off the front with a lap and a half to go. With no one in the group willing to take on the chase, the sprinters left it too late and Burrill picked up a well-earned win.
The senior B racing was very open with a different winner in every race.
Tom Sharples (Welwyn Wheelers) won all the youth CDE races apart from the handicap race.
The youth AB racing saw a great ride by Louis Bilyard (Lee Valley) in the point's race. Bilyard rode very strongly to take 5 points overall in the race and the win.
It is hoped the number of riders continues to rise as more riders mean better and more competitive racing.
Senior A
10 lap Scratch – Frank Longstaff (Team Terminator) Tony Gibb (Gull Gas Racing) John McClelland (Bush Healthcare CRT) Mitchell Powell (Team Terminator)
15 Lap Points – Tony Gibb (Gull Gas Racing) Frank Longstaff (Team Terminator) John McClelland (Bush Healthcare CRT) Mike Broadwith (ArticTacx RT)
Devil – Tony Gibb (Gull Gas Racing) Frank Longstaff (Team Terminator) John McClelland (Bush Healthcare CRT) Mark Smith (Pro Cycle Hire UK RT)
10 Mile Scratch – Jason Burrill (Peterborough) John McClelland (Bush Healthcare CRT) Frank Longstaff (Team Terminator) Mark Smith (Pro Cycle Hire UK RT)
Senior B
10 lap scratch – Ryan Green (Lee Valley) Ben Selfe (Lee Valley) Chris Burns (Welwyn Wheelers) Tony Marriott (Hertfordshire Wheelers)
12 Lap Points – Andy Digby (Welwyn Wheelers)Chris Burns (Welwyn Wheelers) Matthew Shepherd (Lee valley) Ryan Green (Lee Valley)
Devil – Toby Miles (Welwyn Wheelers) Tom Durkin (Welwyn Wheelers) Tom Zittel (Willesden CC) Laurence Lisher (Green Arrow CRT)
Youth AB
7 Lap Scratch – Alexi Edwards (Palmer Park) Louis Bilyard (Lee Valley) Sam Asker (Welwyn Wheelers)
7 Lap Points – Louis Bilyard (Lee Valley) Kat Anderson (Welwyn Wheelers) Alexi Edwards (Palmer Park)
8 Lap Block Pursuit – Christian Manzi (Lee Valley) Ollie Stockwell (Welwyn Wheelers) Reece Pollen (Welwyn Wheelers)
7 Lap Handicap – Alexi Edwards (Palmer Park) Louis Bilyard (Lee Valley) Ollie Stockwell (Welwyn Wheelers) Dexter Mansel-Thomas
Youth CDE
3 lap Scratch – Tom Sharples (Welwyn Wheelers) Joe Kiely (Welwyn Wheelers) Michael Sumner (Welwyn Wheelers)
4 Lap Points – Tom Sharples (Welwyn Wheelers) Joe Kiely (Welwyn Wheelers) Michael Sumner (Welwyn Wheelers)
3 Lap Block Pursuit – Tom Sharples (Welwyn Wheelers) Joe Kiely (Welwyn Wheelers) Rudy Knight (Lee Valley) Jack Emerson (Colchester Rovers) Michael Sumner (Welwyn Wheelers)  Ben Griffin (Welwyn Wheelers)
4 Lap Handicap – Michael Sumner (Welwyn Wheelers) Jodie Taylor (Colchester Rovers) Joe Kiely (Welwyn Wheelers) Ben Griffin (Welwyn Wheelers)