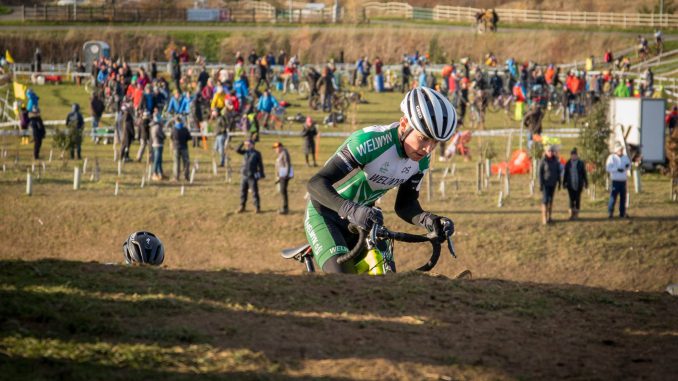 A number of the club youth riders travelled to the Velopark at Gravesend on Sunday for Round 4 of the British Cycling Cyclo-cross series. Prior to the start Oli Stockwell had the leaders yellow jersey for the Under 16 race and Euan Woodliffe was lying second in the under 14 series.
A Beautiful bright sunny day but windy chilly conditions. The organisers had set a technically challenging technical course for the event. There were some challenging and slippery off camber slopes and steep vertical banks sorting out those that could ride and those that had to run. This course suited the club riders thanks to the CX circuit at GSP.
In the under 14 category Euan Woodlife needed to finish in a good position to maintain his position in the top group of four riders all within a few points of each other Euan moved into second place around 15 seconds behind the leader and held this to the finish with a great performance. This put him into a position to challenge for the series leaders Green jersey depending on where the current leader finished. Euan's clubmate Caelen Millar had a storming race and overtook the series leader in the closing stages to finish in an excellent 5th place thereby enabling Euan to take the leaders jersey.
In the under 16 race, series leader, Oli Stockwell was crashed into in the first lap by another rider which destroyed his rear wheel. He then had to run to the the pit area to collect his spare bike and this dropped him down the field. He fought back to try and rejoin the front of the field with a truly massive effort and finally got back to 5th place with an amazing performance.
Although he lost the leaders yellow jersey he now lies second overall with two more races remaining.
Joe Kiely had an unfortunate incident negotiating the hurdles – he was unable to uncleat, crashed damaging his arm and failed to finish. Tom Sharples, Rizwan Hameed and Louis Sutton all finished.
Jamie Dene was 15th in the junior race in a field of 60 riders.
In the Central League event at Milton Keynes Fin Woodliffe and Rupert Cavill had a 1,2 in the under 12 race with Xavier Knott 5th, Henry Landon second in the under 10
Beth B and Sasha scored a 1,2 in the under 14 girls while Elllen B and Holly Blaxland were 1 and 3 in the under 16 girls category. Richard Blaxland took second place in the Novice race.
In the senior events John Cavill was pleased to get into the top twenty in the 40+ race in 19th spot while Ben Smith was 50th in the Senior race.
In the Eastern League event at Diss – Dylan Starkey second under 12, Daniell Elliot top under 8 rider