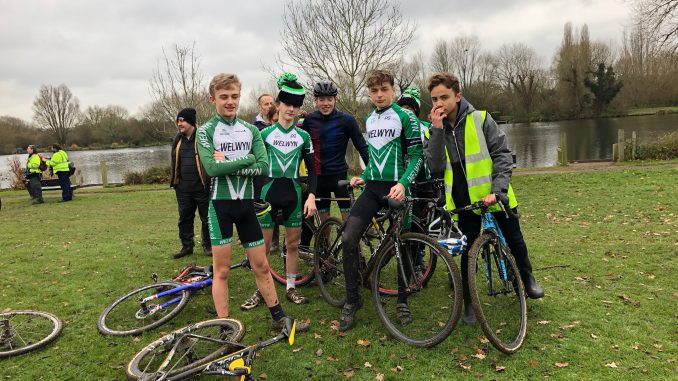 The club riders, coaches, parents and helpers were out in large numbers at  Stanborough Park on Sunday 3rd December for the East and South East regional cyclo-cross Championship to support Susi Sharples, the event organiser.
The course building team were on site at 6-30am and all was ready for race 1 at 10-00.
This slideshow requires JavaScript.
First up were the under 10 group of 30 riders on the small course – Xavier Knott was 17 and Daniell Elliot was the second under 8 boy.
Next were the 39 under 12 riders which included 11 club riders – Fin
Woodliffe came in 5th, Rupert Cavill 7th with Dylan Starkey 8th.
The under 16 race on the large course was a triumph for the Wheelers – a 1,2,3 led by Oli Stockwell who won by almost 2 minutes – he was followed in by Joe Kiely and Archie Peet, in addition Tom Sharples was 7th and Louis Sutton 8th.
Another club battle took place in the under 14 cateory – Caelen Miller and Euan Woodliffe were at the head of the race for the whole race with Caelen winning the sprint for the line
by 2 seconds.
Elspeth Grace returned to good form in the Womens race taking second place behind newly crowned world Vets champion Helen Pattinson (Hargroves Ridley). Elspeth was first Junior with a great ride.
In the 40+ race John Cavill had his best result of the season in 17th place with James Robertson 36th in a tough group.
The end of the final race at 2-30 the course was dismantled, all the
equipment packed away as darkness set in. The total number of riders in the various age groups was 370.
Around 30 Wheelers riders competed in the racing plus around 35 parents and helpers covering a wide range of duties as course marshals, recorders, judges etc.
A great team effort and our thanks to all who contributed to the event to make it another successful days racing run by the club
Peter