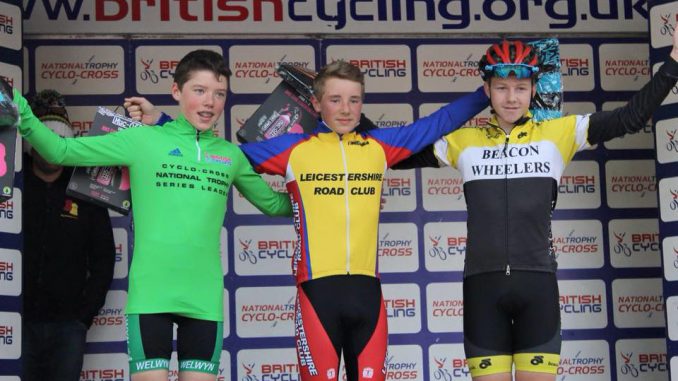 Weekend results from the National series at Derby and the Eastern League at
Mistley, nr Manningtree. Picture of Ollie Stockwell  by  Rona Grace.
A number of the Wheelers youth and Junior riders competed in the second round of the National Cyclo- cross series at Derby on Sunday on a tough and muddy course Oli Stockwell had a highly competitive race in the under 14 category finishing 2nd and taking the Series U14 leaders jersey. It was a very exciting race which came down to Oli and the winner battling for the win swapping places around the course. They both came around the final turn onto the finishing straight which was Tarmac plastered with muddy debris,
unfortunately this was Oli's undoing, as when he opened up his sprint as they came into the finishing section the bike slid out from under him plunging him to the ground costing the win. Oli bravely remounted and crossed the line with a bleeding knee for 2nd place.  A great result Joe Kiely had a storming race for 6th spot in the under 14 race.
Elspeth Grace was also on good positive form with a strong ride to take a fine 3rd place in the 20 strong field of under 16 girls with Lauren Higham 14th.
Michael Parry was 25th in the junior category.
The under 16 boys race had a strong field if 60 riders – including three Wheelers on the tough course – Will Raymond was 12th, Sam Asker 30th an Tom Durkin 47th
In the Eastern League race on Sunday at Mistley Tom Martin had his best result of the season finishing in 4th place in the youth race. Imogen Chastell had another great performance taking 14th place and top under 14 girl.  Michael Sumner was 26th.  Rob Bloxham , Dave Martin and John Sumner rode in the 50+ event finishing 12th, 37th and 48th.
On Sunday  the Wheelers riders will be competing for the club cyclo-cross championship trophies in the Eastern League event run by Ely CC at Grafham Water. A large contingent of the club riders will be there in all the various age categories ranging from under 10 to over 50.