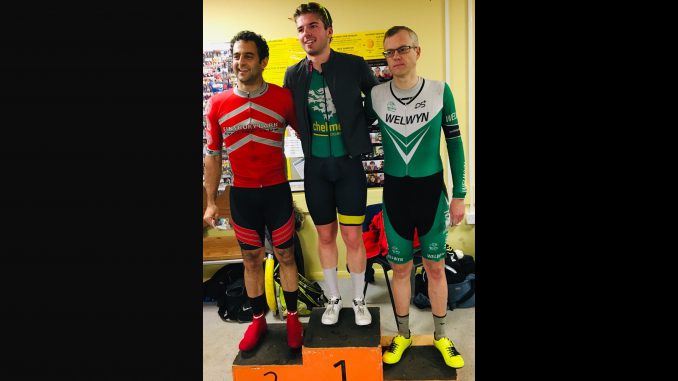 Andrew Knott headlines this weeks racing update after flying the flag for the Senior road racers with an impressive 3rd spot at the Category 3 BIG Event race at Hillingdon on Saturday.
The event was held in atrocious weather conditions with heavy rain throughout and strong winds. Early in the race veteran Andrew went very deep and managed to bridge across to a breakaway when he sensed it was the winning move. The 5 man break worked well together until the last lap when the attacks started. Andrew left it all on the road, crossing the line in third place to get a podium place and was pleased to show the Welwyn jersey at the front of a seniors race.
Round 3 of the HSBC UK Cyclo-Cross National Trophy Series was held an 8+ hour drive away in Irvine. Three Wheelers competing in the Under 14 Girls Trophy made it a worthwhile long trip North of the Border with Millie Coleman (8th), Lucy Allsopp (12th) and Ellen Phillips (18th) all collecting points.
In the CX leagues there were wins for Louis Sutton, Leon Atkins, Ethan Storti, Oliver Beale and Daniel Elliott.
We wish Louis a speedy recovery after he broke his collarbone on Monday in a training accident caused by a pothole.
CCXL R7 – Leighton Buzzard
U10
8 Joshua Halden
U12
1 Leon Atkins
8 Katie Allsop (4th Girl)
15 Elijah Storti
25 Rachel Halden (10th Girl)
U16 Boys
6 Calum Moir
9 Jake Manning
U14 Boys
1 Ethan Storti
2 Fin Woodliffe
5 Will Pollard
U14 Girls
2 Lucy Allsop
Junior Men
5 Ben Hinchliffe
6 George Gould
V40 Men
28 Thomas Hinchliffe
Eastern League R6 – Grafham Water
Senior/Junior
2 Louis Sutton (1st Junior)
Women
11 Ellie Cadzow
Youth
2 Toby Brown
8 Dylan Starkey
44 Elise Whitaker (5th Girl)
U12
1 Oliver Beale
6 Isabel Beale (2nd Girl)
U10
1 Daniel Elliott