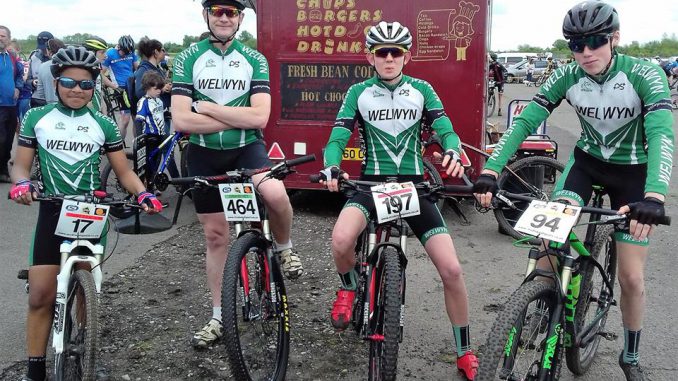 The club mountain bikers were out in force on Sunday for the Regional Mountain Bike Championship at Carver Barracks, Essex on Sunday. First place for Oli Stockwell – youth boys, Joe Kiely – juvenile boys, Lauren Higham – youth girls, and Joe Kiely – juvenile boys.
Oli and Joe started together in the youth/juvenile race over 4 laps in
around 70 mins. Oli was challenged in the early part of the race but broke clear after 2 laps finishing over 2 mins ahead of the next rider
Joe had a close fought battle throughout but at the 2 lap point appeared to be losing ground to rival Alex Dale of Lee Valley CC. Joe some how managed to catch up with Alex in the 3rd lap and they had a ding dong battle to the end where they emerged from the woods onto a long stretch of concrete road. Such was their gap to 3rd place they slowed almost to a stand challenging  each other to break for the final 400m sprint. Alex took up the sprint and Joe chased in his wake to come through for the win less than 50m from the
line. A very good exciting finish to a good race.
This slideshow requires JavaScript.
Also racing in the under 12 category were Dylan Starkey, Rupert Cavill and  Fin Woodliffe who all raced well and finished. (places to come) Nathan Blackmore rode the Junior race and Garry Blackmore the Vets race.
On Saturday Oli and Keith Stockwell rode the Easter Counties 10 mile Time trial event near Cambridge – Keith recorded a time of 21-12 but was beaten by his son – Oli who finished in 21-04 which beat the Wheelers under 16 -10 mile record in 21-04 (previously held by Pete Bissell) some years ago.
Also on Sunday Team Kinetic/Welwyn had three riders in the 80 strong field in the Banbury Star road race. A tough course with a steep hill each lap which soon split the field apart. Elspeth Grace was in the leading group of 15 as they approached the finish at the top of the hill and finished in 5th spot behind the winner Nicki Juniper. Rachel Haltenstall finished the race but Lesley Courtney was brought down in a crash and was a non finisher.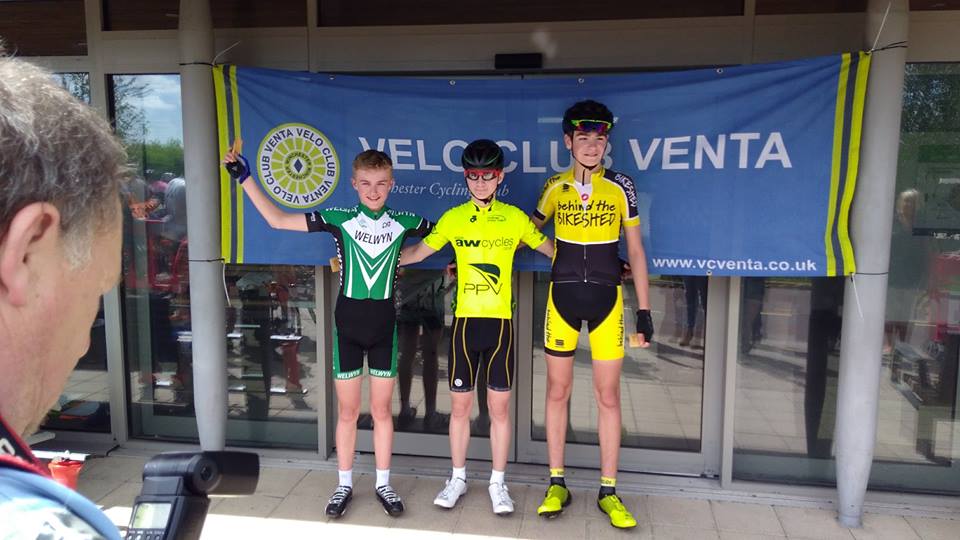 Archie Peet travelled to Winchester for the Park and Ride Town Centre Crits and finished in second place in the youth event.
Peter