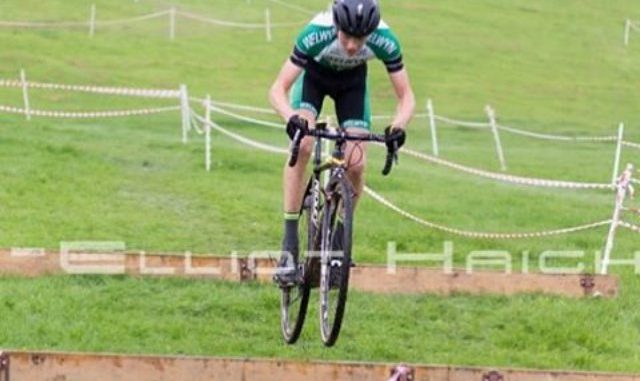 The Wheelers cyclo-cross riders had another good series of results at the various races last weekend.
The Central League event at Milton Keynes saw another 1 and 2 in the under 10 boys race – with Dillon Knott and Finlay Woodliffe on the podium and Rupert Cavill 5th. Poppy Knott  came 4th in the under 12 girls category while Thomas Dixon took 9th spot in the under 12 boys race after a late crash. Xavier Knott came in with excellent 3rd place in under 8 boys.
Oli Stockwell was the runaway under 16 winner with Euan Woodliffe taking second place in the under 14 boys race. Naomi Holt and Freya Butler scored a 1,2 in the Youth Girls race.
The senior events all had very large fields – John Cavill 26th in the 40+ group with Chris Murphy 13th in the 50+ category.
Also on Saturday a number of riders travelled to Hadleigh to ride the Eastern League race held on a very difficult course where parts of the course were more suitable for mountain bikes than 'cross bikes. Elspeth Grace won the Womens race while Lauren Higham won the Youth Girls event.
Joe Kiely was the early leader in the under 14 race but mechanical problems dropped him down the order eventually finishing 14th. Tom Sharples was 8th overall and third under 14 rider.
The following day the Eastern League race was held at Colchester on a good fast grass based course. Dylan Starkey opened the series with second place in the under 12 group.
In the 50 strong Youth race Oli Stockwell got away on lap 1 and was never headed – Joe Kiely was third and top under 14 rider, Tom Martin 9th, Tom Sharples 14th (3rd Under 14).
Martin Dossett finished 28th in the 40+ race but Keith Stockwell was all set for a 10th place but had a mechanical problem in the final lap and failed to finish. In the final Senior race of the day Michael Parry was 10th and 3rd Junior.
A number of riders will be travelled to Derby at the weekend for round 1 of the British Cycling Cyclo-cross series.