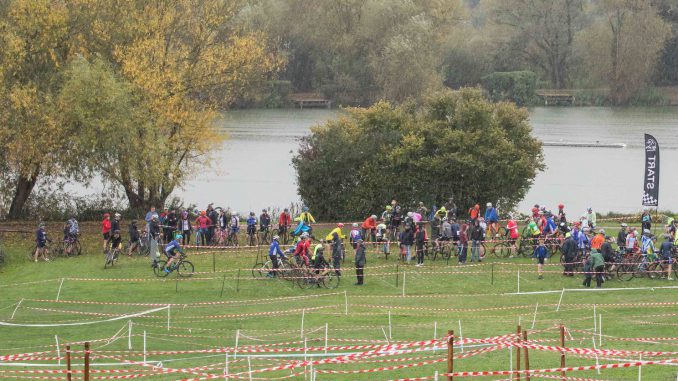 The Wheelers promoted round 6 of the Eastern Cyclo-cross League at Stanborough Park on Sunday on a wet and miserable day with incessant rain for most of the day.
Nevertheless around 360 riders had pre-entered for the days racing and all of the various age groups had a good number of riders. Most of the course was set up by our eager volunteers on Saturday and completed by the team who were on site at 6am on Sunday morning in the pouring rain.
The first race for under 10 riders set off at 10am – Daniel Elliot took fifth place – Fin Woodliffe and Rupert Cavill got a 1,2 in the Under 12 category of 24 riders, Megan Hughes 17th and Jacob Lewin 19th.
The Youth race had 70 riders- Joe Kiely and Euan Woodliffe took the top two places in the Under 16 race followed by Tom Sharples 5th, Nathan Hardy 7th and Mark Lightfoot 8th and winner of the under 14 category – 6 other club riders all finished the race.
The largest race of the day was for the Over 50 + women riders which had the maximum field of 100 riders. John Cavill had his best result with 14th place in the 40+ race with Keith Stockwell 16th and Garry Blackmore 49th.
Last Race of the day was for Senior and Junior riders when conditions were at their most muddy and slippy. In a field of 70 riders Oli Stockwell was on tremendous form winning the one hour race by 30 seconds from Senior rider John Madgwick (Bloodsport CC), Adam Lightfoot was 6th and second junior plus Archie Peet 7th,(4th Junior) Simon Cragg (32nd), Keith Stockwell (42nd), Thomas Holt (45th) and Joshua Maynard (57th) also raced.
A good days racing in tough conditions and well organised by the 'WW team' of helpers who made the event a great success on an excellent venue at Stanborough Park.
Also on Sunday a number of club riders chose to ride in the Central League race at Bedfont Lakes near Heathrow. Xavier Knott won the under 10 race while brother Dillon was second in the under 14 category with Henry Landon 3rd and Elice Whittaker 12th. Calum Moir 2nd in the under 14 event with Cormac Nisbet 5th, Tom Dixon 12th. Millie Coleman won the under 12 girls race and Iona Moir took the under 16 girls race with Ella Coleman 3rd and Sasha Blendis 6th.