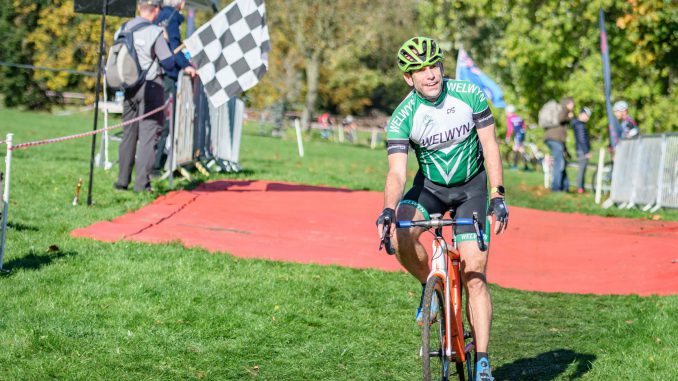 A clash of Central and Eastern league fixtures on Sunday saw the majority of the Wheelers chosing to ride in the Central League round 6 CX races at Hemel Hempstead on Sunday in fine sunny conditions. Most of the usual suspects were in action with highlights being wins for Millie Coleman and Finn Woodlife, with Finn in another close race for the U14 boys top spot with Rupert Cavill and Dillon Knott not far behind. The fine weather enticed a large number of Welywn veteran racers to compete in a huge 100+ field, much to the delight of the travelling supporters.
The Lightfoot, Starkey and Elliot families chose to travel to round 7 of the Eastern League at Mistley, Essex. Mark Lightfoot again finished as first U14 in the Youth category with brother Adam 7th senior to make it onto the Junior boys podium. A full result breakdown of all 34 Welwyn riders that raced CX this weekend is listed below.
Finally, Archie Peet competed in the Berkhamsted CC hill climb up Tom's Hill in Ashridge on Sunday, riding up in the big ring to finish 3rd overall.
This weekend the Kielys and the Moirs will be making the long trip to Irvine, Scotland for round 2 of the National Trophy Series where Joe will be defending his yellow jersey as series lader.
Central League round 6, Hemel Hempstead
Women
35 Holly Blaxland Welwyn Wheelers CC Junior Girls (3rd Junior)
36 Freya Butler Welwyn Wheelers CC Junior Girls (4th Junior)
Senior
15 Nathan Blackmore Welwyn Wheelers CC Senior Male
51 Laurence Davis Welwyn Wheelers CC Senior Male
Vet 40
25 Keith Stockwell Welwyn Wheelers CC Vet Male 40-49
30 John Cavill Welwyn Wheelers CC Vet Male 40-49
33 Andrew Howell Vet Male 40-49
36 Alex Peeke Welwyn Wheelers CC Vet Male 40-49
66 Richard Blaxland Welwyn Wheelers CC Vet Male 40-49
100 Stephen Parnwell Velosport Cycling Club Vet Male 40-49
101 Ronan McArdle Welwyn Wheelers CC Vet Male 40-49
Vet 50
21 Angus Wells Royal Air Force CA Vet Male 50+
40 Garry Blackmore Welwyn Wheelers CC Vet Male 50+
41 Chris Murphy Welwyn Wheelers CC Vet Male 50+
Junior Men
3 Jamie Dene Welwyn Wheelers CC Junior Boys
U16 Girls
2 Iona Moir Welwyn Wheelers CC U16 Girls
U16 Boys
2 Euan Woodliffe Welwyn Wheelers CC U16 Boys
U14 Girls
1 Millie Coleman Welwyn Wheelers CC U14 Girls
5 Beth Bennett Welwyn Wheelers CC U14 Girls
U14 Boys
2 Calum Moir Welwyn Wheelers CC U14 Boys
5 Cormac Nisbet Welwyn Wheelers CC U14 Boys
8 Ethan Storti Welwyn Wheelers CC U14 Boys
13 Thomas Dixon Welwyn Wheelers CC U14 Boys
U12 Boys
1 Finlay Woodliffe Welwyn Wheelers CC U12 Boys
2 Rupert Cavill Welwyn Wheelers CC U12 Boys
4 Dillon Knott Welwyn Wheelers CC U12 Boys
10 Joe Grinnall Cycle Club Ashwell (CCA) U12 Boys
U12 Girls
2 Elise Whitaker Welwyn Wheelers CC U12 Girls
6 Megan Hughes Welwyn Wheelers CC U12 Girls
U10 Boys
4 Xavier Knott Welwyn Wheelers CC U10 Boys
6 Elijah Storti Welwyn Wheelers CC U10 Boys
U10 Girls
9 Josephine Davis Welwyn Wheelers CC U10 Girls
U8 Boys
7 Alastair Davis Welwyn Wheelers CC U8 Boys
Eastern League round 7, Mistley
Senior/Junior
7 Adam Lightfoot Junior Welwyn Wheelers CC
Vet 40
48 Malcolm Starkey Vet 40+ Welwyn Wheelers CC
Youth
5 Mark Lightfoot Yth/U14 Welwyn Wheelers CC (1st U14 boy)
23 Dylan Starkey Yth/U14 Welwyn Wheelers CC (7th U14 boy)
U10
5 Daniel Elliott U10 Welwyn Wheelers CC