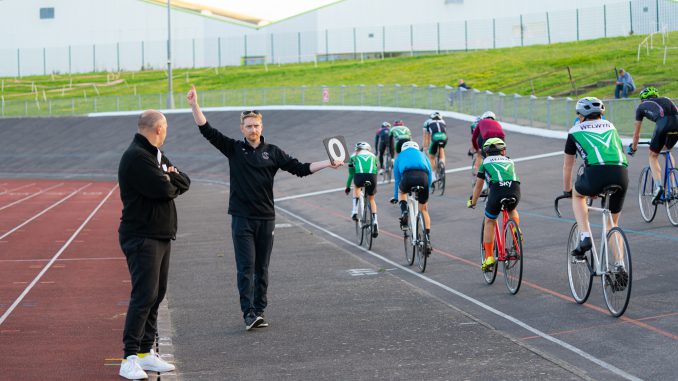 Learn to ride on the banked track on a fixed wheeled bike at the Gosling Velodrome. Sessions delivered by British Cycling track qualified coaches.
This year we will again be holding introductory Track Taster sessions and three series of progressive Track Novice sessions, for those seeking accreditation and advancement to racing.
The Taster and progressive Track Novice sessions are open to novices of all ages – Youth, Junior & Senior, male & female. Minimum age 8 years. Progressive session entrants will be expected to book and try to complete all 4 stages within a scheduled block. To be accredited to ride on the track, riders must complete Stages 1-4.
All novice riders must complete each stage in order, ideally completed within an individual block of sessions. If a rider misses a stage, they can rebook the missed stage in the next block. Novice riders will need to be signed off by one of our Track coaches before they will be able to book onto the Saturday Improvers to continue their progress.
Track bikes are available to hire @£5 per session. The standard Pedal system is Look Keo. Hire bikes have Keo pedals fitted with Toe Clips & Straps fitted to pedal converters. Pedals on Hire bikes cannot be changed!
For the Novice sessions, riders will be split into groups by age and ability.
Block 1 (Stages 1 – 4)
Saturday 22nd April Novice Stage 1
Saturday 29th April Novice Stage 2
Saturday 6th May Novice Stage 3
Saturday 13th May Novice Stage 3-4
Block 2 (Stages 1 – 4)
Saturday 20th May Novice Stage 1
Saturday 27th May Novice Stage 2
Saturday 3rd June Novice Stage 3
Saturday 10th June Novice Stage 3-4
Block 3 (Stages 1 – 4)
Saturday 17th June Novice Stage 1
Saturday 24th June Novice Stage 2
Saturday 1st July Novice Stage 3
Saturday 8th July Novice Stage 3-4
*New* Block 4 (Stages 1 – 4)
Saturday 15th July Novice Stage 1
Saturday 22nd July Novice Stage 2
Saturday 29th  July  Novice Stage 3
Saturday 5th    August  Novice Stage 3-4 
To start booking, make a selection from the below options.
Taster Sessions:
Progressive Track Novice Sessions:
Please also take a look the Track Session FAQs page.
Last updated: 22/01/23
Francis Gallacher
Welwyn Coach Coordinator
Mob: 07831 402076