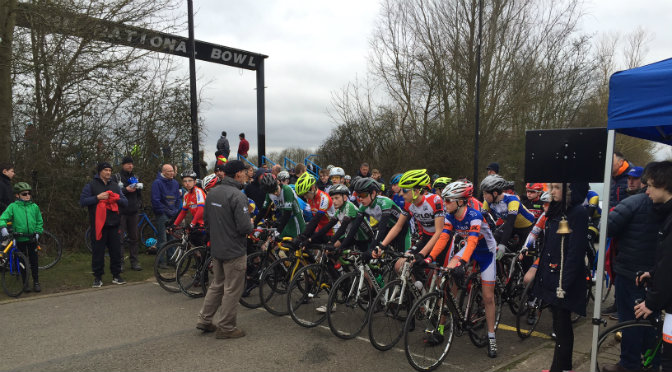 Michael Parry and Ben Smith put up some good performances and results in the Herne Hill 'season opener' on Saturday. Both rode in the senior B category. In the opening scratch event Ben Smith was second while Michael finished second in the elimination race followed by Michael first with Ben second in the Points race.
In the final 20 lap scratch Ben was 3rd and Michael 5th.
At the Velo Park also on Saturday the Wheelers girl racers were on good form at the Full Gas Cycling event – Imogen Chastell won the Under 14 girls race while Millie Gage was victorious in the Under 16 girls category . Unfortunately Josie Griffin punctured in the final lap when in contention for a top position.
Elspeth Grace and Lauren Higham were both in the U16 girls event and all in contention for top positions throughout as there was a seven girl bunch. Lauren was the main protagonist in trying to form a breakaway along with Elspeth but the efforts they put in were constantly frustrated by being closed down in the strong windy conditions. Lauren got away twice but was brought back but still contested the sprint with Millie, Elspeth and two other girls and were just behind the lead three in the final sprint with Lauren in 4th and Elspeth in 5th.
Sam Asker also had a good race in U16 boys but was frustrated by team tactics from other clubs working against his valiant efforts to get away from the bunch.
Ollie Stockwell was second in the U14 after breaking away in a group of three with Joe Kiely coming in 7th with the bunch. Sammy Gage was 12th and Ben Griffin 16th.
Jenna Miles was also third in the U14 girls which is a fantastic result in only her second U14 race.
Finally, the four race Milton Keynes series has now been completed – Ollie Stockwell won the under 14 boys group and Will Raymond won the under 16 series.
Peter