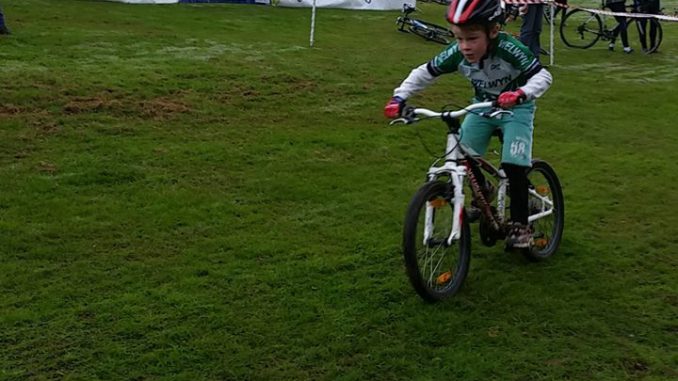 Stanborough Park was the venue for the Welwyn Wheelers Cyclo-cross East League event on Saturday. The course builders set out at 6-30am to mark out a tough course for the riders and the first race got under way at 10-00am for the Under 10 riders and the final race for Seniors was completed by 2-45pm.
The total number of entries for the various age categories was 340 of which no less than 55 were from Wheelers.
Top performers on the day were Will Raymond who led the Youth race of 62 riders from start to finish with a superb ride – Ollie Stockwell was second placed rider and comfortably won the under 14 category with a great ride. There were 22 Wheelers riders in the youth race – Tom Durkin was 5th, Joe Kiely 10th, Lauren Higham 14th and best placed  girl rider.
In the 40+ race of 80 riders Keith Stockwell – one of the course building team and race marshalls who had at the venue since 6-30 am – had his best ride of the season finishing in 8th place. John Armstrong and Alex Peeke (also  course builders and marshalls) were 20th and 30th plus Martin Dossett 32nd.
The under 10 race had 28 riders – Rupert Cavill was top Wheeler in 6th place, Euan Woodlife was third in the 37 strong field of Under 12 riders.
A great days racing in superb conditions on a tough course and well organised by the Wheelers race team