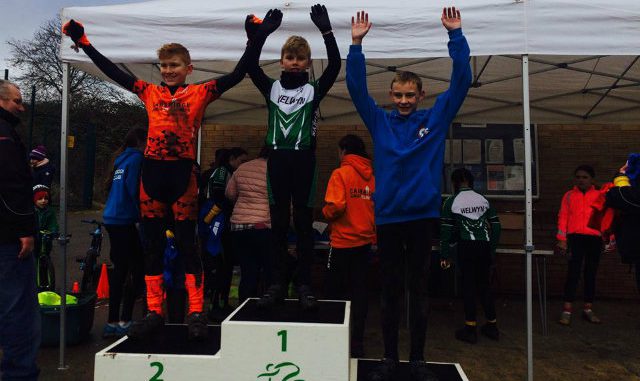 The Wheelers had another successful weekend racing in various activities.
Three riders travelled to the road circuit at Hog Hill on Saturday – Oli Stockwell won the Under 16 race in a sprint finish from the two riders who had broken away with him early in the race and they stayed away for the rest of the race. Joe Kiely won the under 14 event and Lauren Higham completed the picture by winning the girls race.
Also on Saturday the club hosted Round 3 of the Muddy Monsters cyclo-cross race at Gosling Sports Park. Sixty three riders signed on and were split into the various age groups – under 8, 10,12 and 16.
Each group had three races in he bitterly cold conditions and our thanks to all the helpers and officials who organised the day.
Eva McCabe won the under 14 girls group and Tom Oliver the under 12 boys.
Round 4 will be at CC Ashwell on Saturday.
On Sunday a good set of results were achieved in the Central League cyclo-cross event near Bedford, Oli Stockwell led Joe Bennett and Archie Peet for a 1,2,3 in the under 16 race while Joe Kiely was a comfortable winner of the Under 14 category. Ellen Bennett 3rd under 14 girl and Beth Bennett 2nd under 12 girl.
The closing event of the Eastern League will be near Norwich on Sunday followed by the series prize giving with the Wheelers youth riders scheduled to collect a large number of the trophies
Peter