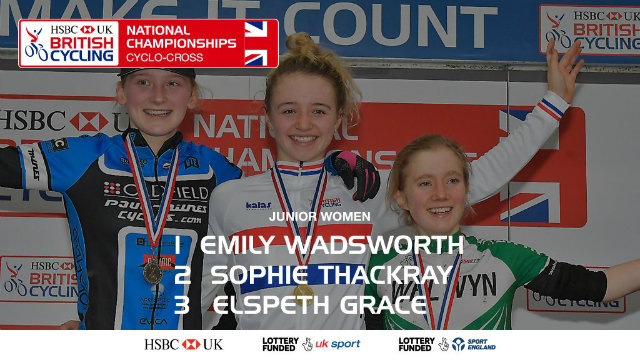 Five Wheelers travelled to Bradford at the weekend to compete in the National Cyclo-cross Championships held on a tough course and difficult muddy conditions to negotiate.
In the Elite Women's race which included a strong group of Junior riders in the 30 strong field Elspeth Grace finished 8th in the main race but won a Bronze medal as the third Junior rider. Another strong performance on a tough course.
The under 16 boys event had a field of 77 riders including Oli Stockwell and Archie Peet – they finished in 11th and 22nd places
Joe Kiely rode in the 63 strong under 14 race and started strongly and was in the lead in the early stages of the race – the tough conditions and the muddy course tool their toll and he lost ground in the latter stages of the race but finally finished 3rd to take a well deserved bronze medal.
Lauren Higham competed in the under 16 girls race in a filed of 26 riders – Lauren was also affected by the tough course and conditions and finished 20th.
Comments from many of the senior riders indicated that this was the toughest muddy course they had encountered in this seasons cyclo-cross events
This weekend Round 3 of the 'Muddy Monsters' cyclo-cross series for young novice riders will be held at Gosling Sports Park. The first two events have had entries of 60 and 76 riders so a large number of riders are expected at GSP- First race is at 10-00am
peter