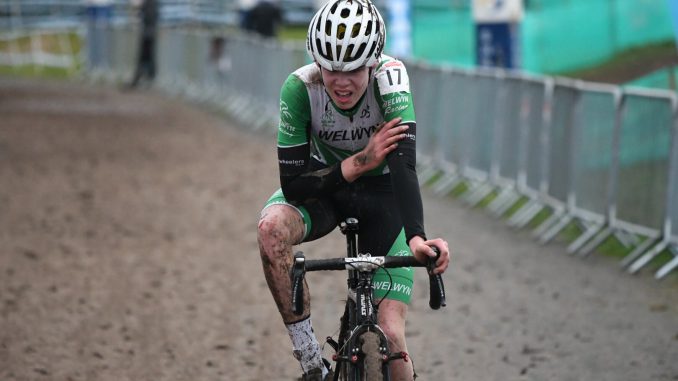 Euan Woodliffe had one of the best CX races of his career as 15 Welwyn youth and junior riders competed in the HSBC UK Cyclo-Cross National Championships at the weekend. The event returned to Shrewsbury, always a great venue and renowned for creating quite ridiculous conditions where the proximity of the river Severn inevitably promotes mud.
The squad returned with results from large fields to be proud of, although many had an incident or two to reflect on. None more so than Euan in the Youth A race who kept supporters and social media followers gripped as a group of 3 slogged it out for the silver place position after Max Greenshill gained a 40 second gap for the win.
Coming into the finishing straight on the final lap first out of the group, Euan had 2nd place and a coveted podium spot in the bag. However, a final burst of power for the sprint caused his back wheel to slip and he hit the tarmac hard. A heroic and gutting finish for 4th place.
U14 Girls
11 Millie Coleman
14 Lucy Allsop
U14 Boys
12 Ethan Storti
20 Dylan Starkey
60 Rupert Cavill
68 Finn Woodliffe
U16 Boys
4 Euan Woodliffe
25 Mark Lightfoot
44 Nathan Hardy
56 Calum Moir
63 Robin Steer
Junior Girls
11 Ellen Bennett
Junior Boys
22 Archie Peet
55 George Gould