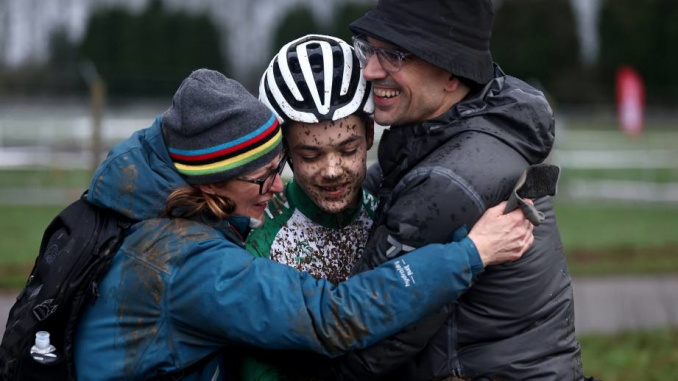 National CX Championships completes clean sweep of youth stripes for the Wheelers.
Leon Atkins may have been the favourite for the Under 14 Boys National Cyclo-cross Championship but his emotional solo victory in brutal conditions on Saturday was still not certain until the very end of the race. The South of England Show Ground has a reputation for producing challenging muddy conditions. Once again, this wet and technical course excelled in its difficulty with competitors torn between riding or running at several sections.
When conditions are like this, the cyclo-cross jet washing area can become an unearthly place like no other. Riders were dependent on the strenuous efforts of pit crews, dashing in seeming slow-motion through 40 metres of muddy slop, to and from the pits, carrying bikes to clean every half-lap. This made it a true team effort for the Atkins family and a lovely moment captured by the BC photographer as this week's featured image.
In the Under 16 Girls Championship Lucy Allsop achieved a brilliant 11th place despite starting from dead last place after missing the gridding line up. A total of 14 Wheelers raced.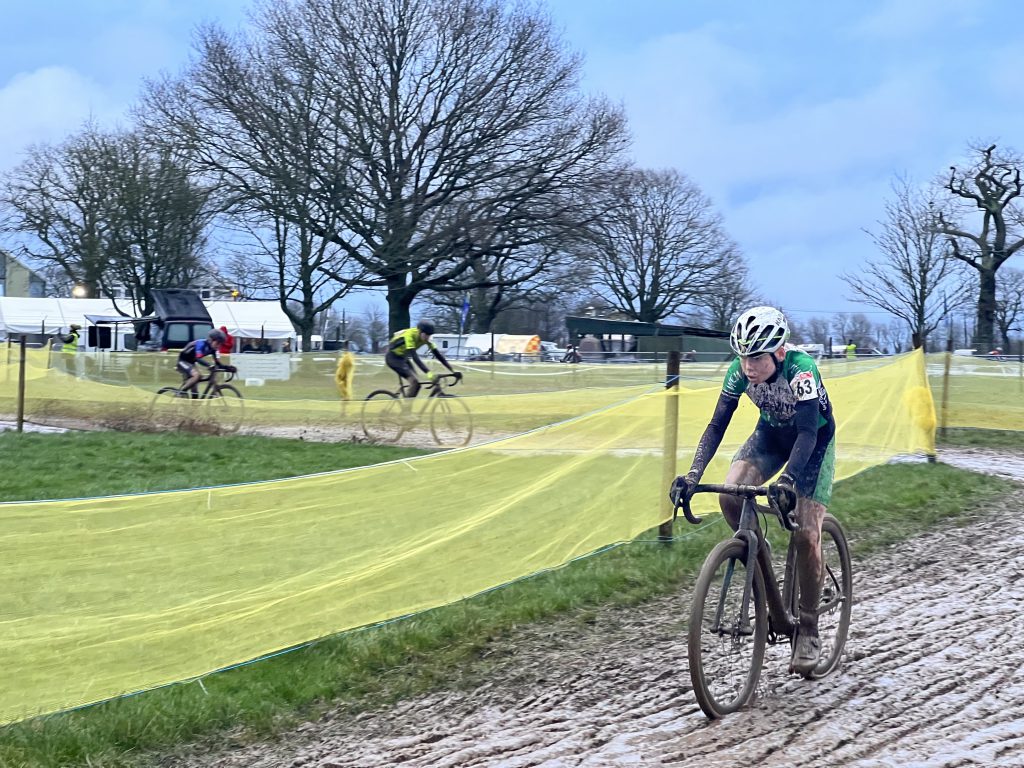 Added to Leon's MTB title, and those of Henry Hobbs on the road and track, Leon's victory means that Welwyn Wheelers now has a clean-sweep of all the current Under 14 Boys cycling National Champion's jerseys (bar BMX). Quite an amazing achievement added to the 2021 U16 achievements of Calum Moir, with 4 further road and track jerseys.
Junior Men
40 Robin Steer
DNF Mark Lightfoot
Junior Women
19 Georgina Pasmore
Under 16 Boys
42 Ethan Storti
61 Tom Pruett
72 Oscar Pasmore
75 Rupert Cavill
DNF William Pollard
Under 16 Girls
11 Lucy Allsop
16 Ellie Mitchinson
33 Elise Whitaker
Under 14 Boys
1 Leon Atkins
16 Oliver Beale
Under 14 Girls
12 Isabel Beale