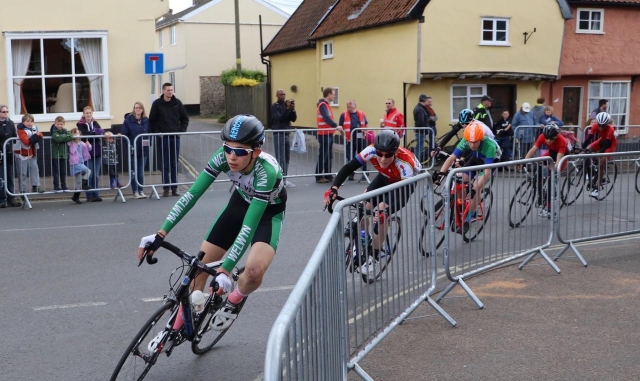 At Hog Hill on Saturday Tom Sharples won the under 14 boys race having been in the leading group throughout the whole event, Rupert Cavill was 3rd in the under 10 group, Beth Bennett second under 12 girl. Joe Bennett and Jamie Dene were 4th and 12th in the under 16 boys.
Also on Sunday the Kinetic/Welwyn Womens team were in Norfolk for the Iceni Velo road race – Lesley Courtney 4th, Elspeth Grace 5th and Sophia Chastell 7th.
The following day a number of the Wheelers journeyed to Ixworth in Suffolk for the annual town centre closed circuit races on a tight course – Tom Sharples continued his winning streak by winning the under 14 race .
Dylan Starkey and Beth Bennett were 2nd in the under 12 boys and girls races respectively, while Joe Bennett was 5th in the under 18 boys event.
Peter