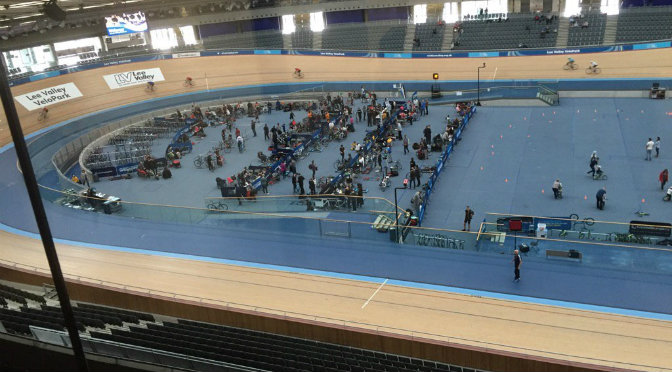 The Wheelers youth riders were out in force to ride in the British Cycling Youth Omnium series at the Lee Valley Velodrome on Saturday. The 5 event Omnium consists of a Time Trial, Elimination race, Sprint, scratch and Points race with placings in each event to count. The combined results of all four meetings will be added together and the top five riders in each age group will qualify for the final in Cardiff in July. The next two rounds will be at Gosling Sports Park on Saturday May 7th and the following day at Brighton.
The final results from Lee Valley are awaited.
Will Raymond finished 3rd in the tough and highly competitive under 16 Boys category in a field of 28 riders with a good set of results – the winner was ex Wheelers Ethan Vernon who won all five races.
The Wheelers had four riders in the 20 rider under 16 girls group with Josie Griffin and Millie Gage being placed second and third in this group.
Oli Stockwell had a tough time in the under 14 category – he was second in the opening 1Km time trial but an error by the race officials saw him taken out in lap 3 of the elimination race – his name was displayed on the overhead board so he left the track. He was in the front of the race but the officials put up the wrong number on the board so he was eliminated. He fought back to take 3rd spot in the scratch race and with positive rides in the Kieren and points events he eventually finished 5th overall but was disappointed to have been wrongly eliminated in race 2 when in a good position to finish in the top three overall.
Imogen Chastell took a fine 6th place in the under 14 girls category and Euan Woodliffe was 4th in the under 12 boys event
Final results from the Lee Valley event will be published later
Peter