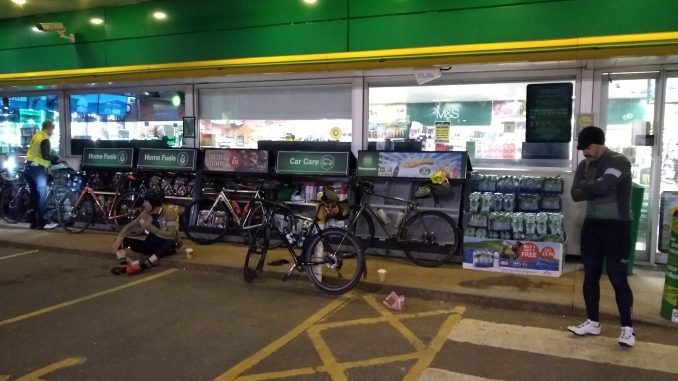 From our Audax correspondent, Alex Peeke.
It has felt like a slow start to spring and for some of us it has certainly been a slow start to the audax riding season. Despite this, Alex Peeke, Jon Williams and Adrian Boswood set out for their first 400km audax of the year called the Jelly Fish Legs (have a look at the Strava map and you will see why). This is a relatively new event in only its second year of running – last year Adrian was one of a tiny number of finishers in apocalyptic rain. This year, fortunately it was dry with light winds although precious little of the promised sunshine and bitterly cold at night.
There was a decent sized field because this is a Paris Brest Paris year and people wanting to ride that event in August have to qualify by doing a minimum number of events over certain distances (200, 300, 400 and 600 kms). As usual there was a fairly eclectic mix of people and bikes from full on racers with minimal bike-packing kit (e.g. Euan and Elspeth) to recumbents, an eliptigo and a fairly unique fixed wheel machine with extra wide mountain bike bars.
The start was at the war memorial in Stevenage Old Town at 10am. A late start for a 400km audax creates a dilemma for riders. Do you try to ride straight through the night to finish in 20-22 hrs or make full use of the 27 hr time limit to catch some sleep and finish late morning turning the ride into two long back-to-back days? I had opted for the sleeping and using the full time limit strategy as I struggle to ride through the night; sleeping on the bike is something I frequently try but haven't yet mastered!
As usual the start was a gentle affair and for the first 3 hours we were on familiar roads, stopping at the Musette café for the first control and heading out via Mentmore towards Swanbourne and Wilmslow where we opted for a café stop and some hot food. After that we were soon into the Cotswolds with the rolling hills, sheep and bucolic villages. At one point we were perilously close to Clarkson's farm but luckily no sight of his oversized tractor on the roads. The sun finally came out around 5pm and we enjoyed a pleasant early evening. The town of Bourton-on-the-Water was heaving with people enjoying an early evening drink by the river and I reflected that a civilised cycling trip we would be stopping now for a nice evening out. Instead we knew that we had around 7 hours still to go.
The high point both literally and figuratively came next as we traversed the top edge of the Cotswolds being routed through little lanes among dry stone walls with the odd glimpse to the plain of the Severn and Wye below. After an excellent descent we came into Chipping Campden, a beautiful town but with more facilities for antique collectors than long-distance cyclists. We continued to roll along nicely as the sun began to set casting a wonderful glow on the Cotswold stone but before long the sun set and it was time to change into night routine. We stopped to switch on lights and don our night time layers as the temperature drops very quickly at this time of year. Jon and I donned our excellent Rapha brevet jackets but Adrian true to the spirit of audax put on his £25 M&S gilet under his rain jacket. I think he was just as comfortable as we were.
We had planned to get hot food at Towcester where we arrived just after 10.30 pm. Disappointingly the so-called 24 hr McDonalds refused us entry and wouldn't serve us through the drive-thru "for insurance reasons". I was tempted to debate the liability issues with the individual but could see that that I was up against a legal intellect that I wouldn't be able to best. I don't think that McDs care what cyclists think of them as we aren't really the target market. Instead, in the true spirit of audax we sat on a garage forecourt and had a coffee served through a hatch and munched sandwiches.
The night time section was a bit grim. We were tired and slowing down and it was cold. Northamptonshire is great cycling country in the day time but with the hills and at night without the benefit of the view, it was tough going. There was one nice audax moment when we saw an owl hunting over the fields but other than that it was a case of keeping concentration on road surfaces littered with holes. Just before 2am we arrived at the northernmost point at Market Harborough services. We had rooms booked at the Premier Inn and Jon and I agreed to meet up in reception at 6am for the last leg giving us at most 3 hours in bed. However, having a shower, cup of sweet tea warming up and some sleep worked wonders. Adrian was concerned about slowing down in the morning so opted to leave after the briefest of naps at 4am and we didn't see him again.
Fresh from our sleep, Jon and I had a hearty McDonalds breakfast thanks to a much nicer manager who opened 10 minutes early for us. We were surprised to see Elspeth and Euan come in just as we finished our breakfast having not seen them since the start. They had got to the hotel in time for the end of the Eurovision final, had 7.5hrs rest and were off for a relaxed day 2. Unsurprisingly they caught us after about 45 minutes and we didn't see them again either.
The morning was misty and overcast but with a clear promise of sunshine later. We made good progress on pretty easy roads working our way to St Neots where we had a second breakfast at Greggs. We were now back on familiar roads re-tracing the route Jon and I had taken on the way back from Grafham Water 6 days previously. There was a small cheer when we passed the "Hertfordshire County of Opportunity" sign as I thought about the opportunity for an afternoon nap in the sun. Jon and I reached the finish at 1130am in a total elapsed time of 25.5 hrs. Adrian had finished an hour earlier. Jon and Adrian rode home given them more than 430km on the clock for the weekend. I opted for the train so had a mere 425km (265 miles).