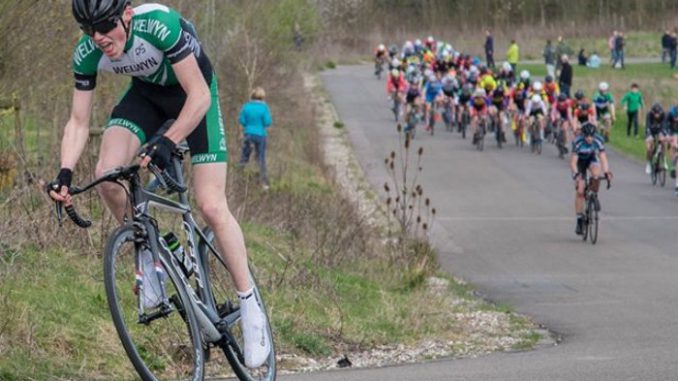 A number of the Wheelers youth riders were at the Hog Hill closed road circuit at Redbridge on Sunday for Round 1 of the British Cycling Roadseries.
One hundred riders lined up for the 90 minute Under 16 race on the main circuit including the tough Hog Hill which had to be climbed every lap. The pace was fast and furious throughout and a number of riders lost contact from the bunch each lap .
Lewis Askey (team RTS) broke away and Oli Stockwell rode
across to join him in the lead – after two laps he eased up and dropped back  to join a break away group of three. The group worked well together sharing the pace and gained time
on the main bunch. They stayed together for the rest of the race. At the finish Lewis Askey won alone by 30 seconds – Oli was totally exhausted as  he crossed the line in an excellent fifth place two minutes ahead of the main bunch. Jamie Dene rode well and finished in the bunch. Only 50 riders finished the race. Joe Bennett and Archie Peet were non  finishers having been involved in mid event
crashes
The under 14 race had 93 riders for the one hour race – there were numerous attempts to set up a break away group but none succeeded and as the race entered the final lap only 35 riders were in contention – ascending the final hill in the correct position was crucial to a obtaining a good finishing position. Tom Sharples used his power and tactics to good effect and crossed the line
in 5th position with a superb ride. Joe Kiely was 27th and Euan Woodliffe 28th
Lauren Higham finished in the bunch in the under 16 girls race.
In the under 12 category  event, Dylan  Starkey was dropped from the bunch after the 3rd of 6 times up the hill but settled into a small chase group and finished about 23rd-25th out of 49 starters.
Excellent results in a highly competitive days racing on a tough course with a massive number of competitors in each race. Round 2 will be in tne Isle of Man in late April.
Peter