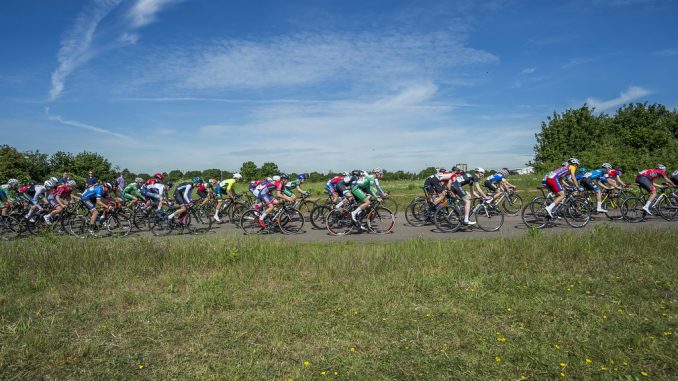 The Hillingdon road circuit was the scene of round 3 of the Youth National Circuit Series on Saturday on a warm day in fine racing conditions.
The Wheelers had 5 riders in the under 14 boys race with Calum Moir taking a creditable 8th place followed by Dylan Starkey, Mark Lightfoot, Ethan Storti and Sam Quiggin in the main bunch. Iona Moir finished in 11th place in the under 16 girls (Ellen and Ella having a day off for exam revision). Millie Coleman finished 15th on the u14 girls.
In the u16 boys race Nathan Hardy got into an early break and Joe Kiely made a solo break late on but got caught. A break did get away at 5 to go, got 30 seconds and held on to win. Joe, Nathan, Euan Woodlife and Tom Sharples all finished safely in the bunch but were unable to risk 'muscling' their way to the front to contest the Hillingdon bunch gallop this time. No incidents were reported fortunately – perhaps helped by the anti-clockwise course direction.
In the supporting under 12 boys race Rupert Cavill and Fin Woodliffe finished 4th and 5th from a group of 10 riders.
In mountain biking news Leon Atkins took third place in round 4 of the Southern XC series on Saturday. On Sunday (in a suspected attempt to keep his 100% road race win rate intact!) Louis Sutton switched back to his MTB bike and picked up 2nd in the Junior race at MSG Round 5 at Thickthorn, just 3 seconds off the winner Thomas Timberlake of Dyson Cycles after leading for most of the race. And there was another 2nd for Daniel Elliott in the under 9s category.