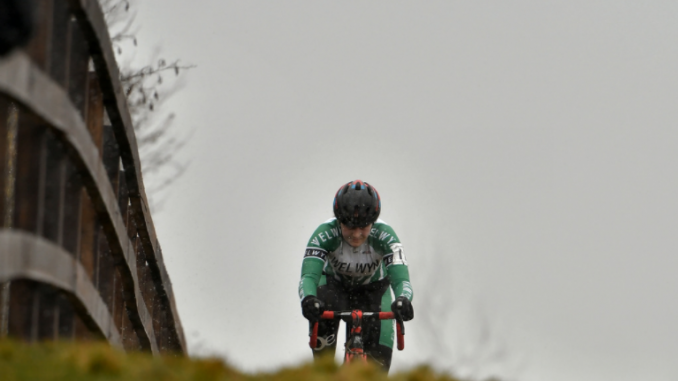 Dylan Starkey secured the under 12 series at Snetterton on Sunday when he finished third in the race and his main rival who needed a win only finished in second spot. The final Eastern League race is at Milton near Cambridge on Sunday and Euan Woodliffe is in with a chance of taking the under 14 series so long as he gets a top 10 position in this event. Calum Moir got his best result of the season coming 8th U14 boy. Ellie Cadzow came 8th in the Women's race (Pic by Jon Orbea).
A number of club members rode in the Hog Hill road circuit race on Saturday in wet, cold and very difficult conditions. Dylan Starkey, Fin Woodliffe competed in the under 12 race with Dylan taking second place an Fin 5th. Rupert Cavill who had already ridden in the Mountain bike race failed to finish due to the cold conditions. Euan convincingly won the U14 with Caelen Miller 4th.
Oli Stockwell rode the under 16 race and was in a breakaway group of two riders and opened up a lead on the main field – Oli lost contact in the closing up hill sprint for the line and finished second.
As from this week the midweek cyclo-cross training sessions at GSP will only he held on Wednesday evenings and these are open to both over 14 and under 14 age groups. A number of riders in the 14+ age group may switch to the RBOT (road bikes on the track) session to prepare for the upcoming road circuit season
Dont forget to book and pay for your tickets for the Prize Presentation and social evening at Codicote on Saturday 24th February.
Peter