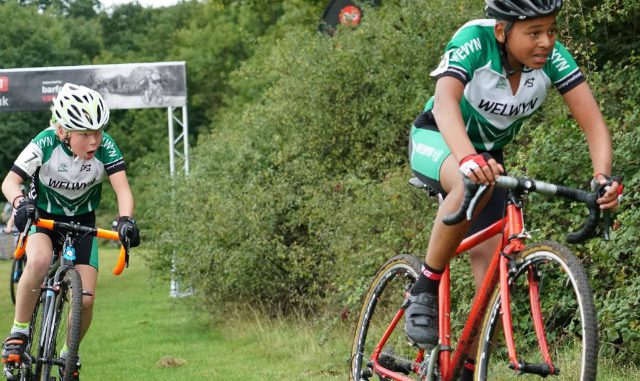 The club cyclo-cross riders were in Essex on Saturday 16th September for round 2 of the Eastern League run by Push Sports.
Oli Stockwell won the youth race for the under 14/6 age group which had a full field of 80 riders Oli won by just over  a minute followed home by  Tom Sharples  5th, Euan Woodliffe 6th (first under 14), Rizwan Hameed 17th, Louis Sutton 26th. Ellen Bennett was first youth girl.
Dylan Starkey derailed his chain when lying third but fought back to finish 5th in the under 12 race with Rupert Cavill 6th and Fin Woodliffe 14th.
Jamie Dene was 7th in the senior race and 3rd Junior with a great ride, Joe Bennett was 11th and 8th Junior
The Following day Joe Kiely won the Mud Sweat and Gears mountain bike race at Langdon Hills and won the race series with Oli Stockwell second.  Archie Peet and Oli Stockwell finished second and third in the Bison Hill climb event run by Lovelo – the top three riders were separated by one second
Round 1 of the Central League will be at Stanborough Park on Saturday and hosted by the club. Pre-entries are almost 400 plus those that enter on the day.
Peter