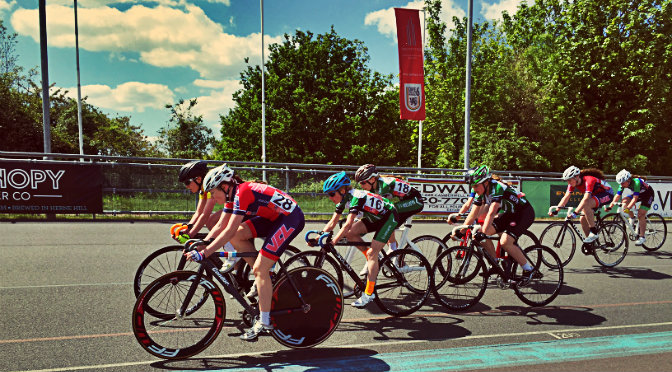 Round 4 of the London Area Omnium series was run at a very sunny Herne Hill on Sunday and the Wheelers achieved some great results in a number of the age related categories.
Josie Griffin and Millie Gage took the top two podium places in the Under 16 girls group while Will Raymond finished 5th in the tough and very competitive under 16 boys events.
Oli Stockwell and Joe Kiely were 5th and 7th in the under 14 group.
The rising star of the day was Euan Woodlife who won the under 12 event in a race long battle with Matti Dodd the winner of the Wheelers Omnium – the final result went down to the last race of the day with Euan taking enough sprint points in the final points race to clinch victory.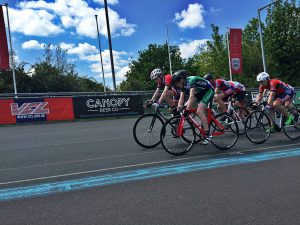 There were a good number of the Wheelers riders in the under 10 group – Dylan Starkey was third, Tom Dixon 6th and Finn Woodliffe 9th.
The results in the 4 Omnium events – Lee Valley, Welwyn, Preston Park and Herne Hill – were combined and the top 5 riders in the under 16 and under 14 groups gained qualification for the National Final which will be held in Cardiff in July.
Will Raymond, Josie Griffin, Millie Gage and Imogen Chastell have all qualified for the Final – a great result for the club and congratulations to them all. Eaun Woodlife tied for first place overall with Matti Dodd in the Under 12 series and was disappointed to learn that BC had decided that there would be no National Final for the under 12 riders this year.
Other weekend results – Ellie Cadzow was 3rd, Caia Casciello 7th and Claire Fisk 14th in a Womens road race in Cranfield. Cadzow added a 2nd place in the Peterborough 10 mile time trial on Saturday and Annabel Sill came 3rd.
Lauren Higham was first juvenile and fastest lady rider in the North Road CC 25 mile time trial on Saturday in a PB of 1-10-31. Also, in her first 25 mile TT event, Anneke Prins completed the same 25 mile TT in 1:14:30.