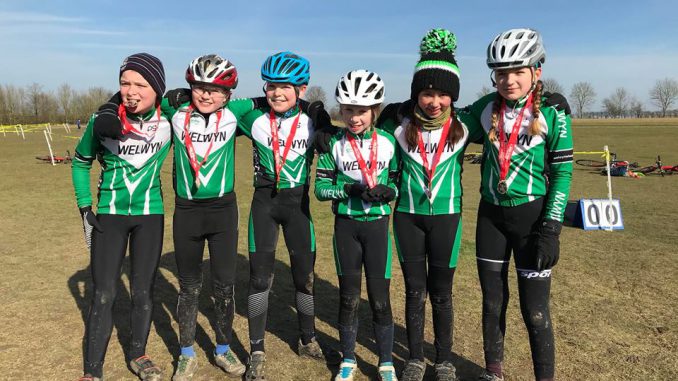 A number of the club Muddy Monster riders were at the CC Ashwell event on Saturday.
Tom Pruett, William Pollard and Fin Stevenson scored a 1,2,3 in the under 12 races while Lena Alford and Elice Whittaker were second and third in the under 12 girls race. Tom Pruett now leads the under 12 catgory with William Pollard in second place.
Megan Hughes took second place in the Under 10 girls event and Daniell Elliot and Rachel Halden were second in the under 8 race
There are just two more Muddy Monsters races remaining to complete the series – this Saturday at Hitchin (now cancelled – see below) and the final round and prize giving will be at at Gosling Sports park on Saturday 10th March as the final event.
MUDDY MONSTERS PLEASE NOTE:
Taken from Icknield site
Dear cyclists, I am sorry to say that I have been obliged to cancel the Muddy Monsters event at Hitchin on Saturday 3rd March owing to the weather conditions which pose serious risks for competitors both on and travelling to the course. I hope to find a possible future date for a go-ride racing event at this venue in Hitchin and will let you know in due course.