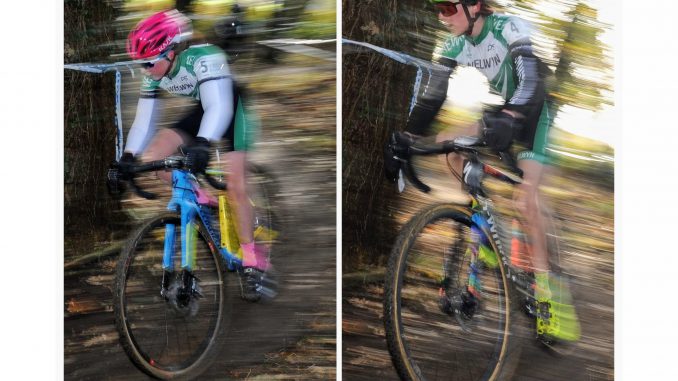 A feast of CX results to catchup with from the last two weekends.
Round 4 of the National Trophy took place at Herrington Country Park, Sunderland under the watchful eye of the Penshaw Monument. Whilst the course lacked mud and was less technical than some, it had a steep bridge, gravel and long straights into a head wind which made it tough. Leon Atkins continued his 100% winning streak in the U14 boys trophy competition with Oliver Beale again not far behind. Lucy Allsop had her best National Trophy result with 10th in the U16 girls while Ethan's 15th in the boys race particularly impressed after being gridded 46th.
Isabel Beale and brother Oliver were crowned Eastern regional champions on Sunday with regional honours also going to Savannah Sykes and Leon in the Central championship at Hillingdon. Fittingly the Central event featured the inaugural Graham MacNamee Memorial race in memory of the much-missed Central region coach who first encouraged Leon to race as a youngster in Go Ride racing.
HSBC UK Cyclo-Cross National Trophy Series 2021/22 Round 4
Junior Men's Trophy
20 Mark Lightfoot
Under 16 Girls Trophy
10 Lucy Allsop
23 Florence Barnett
Under 16 Boys Trophy
15 Ethan Storti
Under 14 Girls Trophy
17 Isabel Beale
Under 14 Boys Trophy
1 Leon Atkins
5 Oliver Beale
Eastern League Round 7, Diss CC Suffolk Supercross
Women
21 Rebecca Maynard
Youth
5 Tom Pruett
U12
5 Daniel Elliott
U10
3 Marley Aldwinckle
Challenge Tires London and South East CX League, Round 08
Junior Men
1 Calum Moir
4 Robin Steer
8 Caelan Miller
Leicestershire Cyclo-Cross League Rd 4
Senior Women
3 Elspeth Grace
Eastern Regional Championships
Senior/Junior
11 Calum Moir (3rd Junior)
20 Caelan Miller (5h Junior)
Veteran Men 40-49
28 Ewan Elliott
Youth
2 Oliver Beale (U14 Regional Champion – boys)
17 Florence Barnett (2nd girl)
19 Isabel Beale (U14 Regional Champion – girls)
U12
2 Daniel Elliott
12 Esmee Bone (2nd girl)
Central Regional Championship, Hillingdon
Senior Men
29 Ben Smith
Vet 40-49 Men
51 James Robertson
Junior Men
11 Jake Manning
U16 Boys
6 William Pollard
10 Rupert Cavill
U16 Girls
2 Lucy Allsop
8 Elise Whitaker
U14 Boys
1 Leon Atkins (Regional Champion)
U14 Girls
2 Rachel Halden
U12 Boys
6 Joshua Halden
11 Edward Nuttall
U8 Girls
1 Savannah Sykes (Regional Champion)
U8 Boys
3 Benjamin Halden
4 Zuri Lassman
7 Robert Nuttall
Western & Wessex Regional Championships
Junior Women
2 Georgina Pasmore