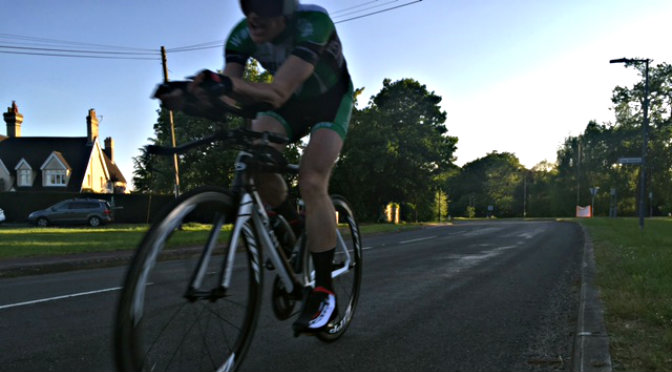 Overall 2016 Club 10 TT Results
2nd August 2016 10TT
Results: 2nd August 2016 10TT
A modest field contested the penultimate club 10 of 2016.
Ex-Welwyn Wheeler and now riding for Pedal Heaven Joe Fry (riding the event as part of his preparation for the National 25 Champs on 7th August)Martin Dossett, Ben Webster and Oli Chapman.
Chatting prior to the start Joe thought his previous best on the course was 20:16 which was also thought to be the course record*
Conditions were less than ideal with a fair breeze and the threat of rain. Joe completed his first lap in a rapid 6:37 and then followed this with lap splits of 6:43 and 6:39 to finish the event setting a new course record with 19:59 – this also means Joe has this season set course records on three local 10 courses.
* there was pre-race discussion as to whether the late Peter Bissell had gone quicker but apparently the paperwork relating to the club 10s Pete rode has been lost…………………..
26 July 2016  10TT
Michael Parry made light of conditions described by several as "close and murky" to record the fastest club 10 time this year with an excellent 21:34. Martin Dossett took second place with 22:30.

Many thanks to Ben Smith,  Elspeth Grace and Bob Parry for marshalling, time-keeping and pushing-off duties in the evening.
19 July 2016 10 TT
Results: 19 July 2016 10 TT
12 July 2016 10 TT
After a day that saw torrential rain the club took place on a damp and windy evening.
Martin Dossett took first place with 22:57 whilst guest riders Alex Anderson and Toby Hunt claimed second and third places with 23.01 and 23:16 respectively.
Many thanks to Julian King for running the event.
Results: 12 July 2016 10 TT
5 July 2016 Club 10 TT
Results: 5 July 2016 Club 10 TT
28 Jun 2016 Club 10 TT
Despite continued absence of any sign of summer 3 keen souls were brave enough to face the timekeeper. The evening started coolant damp and finished with (more) rain.
Many thanks to Peter Waghorn for running the evening and to Dan Brockman, Judith Parry + Alison Hinds for their assistance.
Note: we still need someone to be organiser for Tuesday 12th July
Results: 28 Jun 2016
21 Jun 2016 Club 10 TT
On a dry but breezy evening eight riders signed on for the club 10. Although 15 seconds down on the previous week Michael Parry's 23:06 secured 1st pace with Ben Webster at 1:06 for second place with 24:12.
Results: 21 Jun 2016
14 June 2016 Club 10 TT
There was a break in the days wet weather and the latest round of the club 10 was able to take place.
Six riders signed-on for the event on evening that was described by several riders as "fresh, breezy and damp". Michael Parry made light of the conditions on his road bike to post the best time of the evening with 23:06. Ben Webster was 1:06 behind with 24:12 for second with Tom Durkin,  also on a his road bike, clocked 24:12 for third.
Results:
David Scott