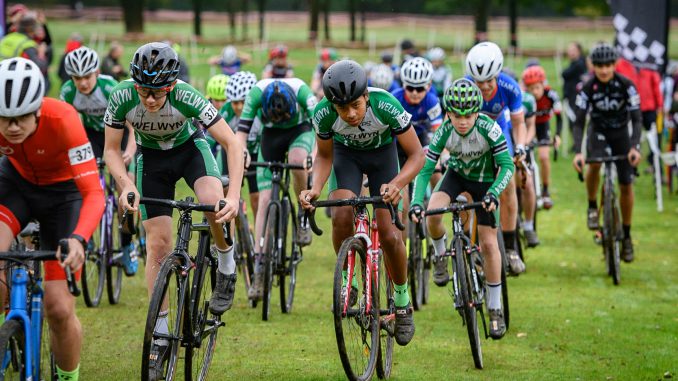 Thanks to the efforts of Susi, Francis and a host of willing volunteers working throughout the weekend, Welwyn Wheelers hosted another successful day of Cyclo-cross at Stanborough Park with round 5 of the CCXL on Sunday.
Graeme again came up with a testing course which, with a mix of weather conditions from biblical rain to sunshine, kept riders guessing all day. Proper mud, which changed from being wet to 'claggy' during the day, ensured a proper test with time to be gained or lost each lap depending on when the decision to run was made. Pit crews were delighted to be kept very busy. The catering was excellent. The music, dominated by Richard's 'Wigan Pier' retrospective and balanced with the banging tunes in 'Velobants corner', was well received. The racing entertained, with a huge turnout in each race.
CX will return to Stanborough Park on Dec 8th for the Eastern & Central Regional Cyclo-Cross Championships.
U8 boys
Robert Nuttal 6th
U10 boys
Daniel Elliott 4th
Joshua Holden 11th
Edward Nuttal 17th
Robert Shaugthessy 20th
U12 girls
Isabel Beale 2nd
Katie Allsop 4th
Megan Hughes 7th
Rachel Holden 13th
Cerys Mitchell 15th
Susan Jacklin 17th
U12 boys
Leon Atkins 1st
Oliver Beale 4th
Henry Landon 9th
Elijah Storti 13th
Mark Bateman 17th
George Nuttal 19th
U14 girls
Lucy Allsop 2nd
Elise Whitaker 6th
Lena Alford 11th
U14 boys
Ethan Storti 2nd
Fin Woodliffe 4th
Rupert Cavill 5th
Dylan Starkey 6th
William Pollard 7th
Sam Quiggin 12th
Bradley Taylor 22nd
U16 boys
Mark Lightfoot 3rd
Nathan Hardy 6th
Toby Brown 13th
Calum Moir 15th
Jake Manning 19th
Junior girls
Ellen Bennett 1st
Eva McCabe 4th
Kirsty Ormrod 9th
Vet Women 40-49
Alison Hinds 15th
Junior boys
Oliver Stockwell 1st
Joe Kiely 2nd
Archie Peet 3rd
Louis Sutton 5th
Harry Heard 13th
Male vets 50
Garry Blackmore 44th
Neil Grigson 48th
Declan McCabe 65th