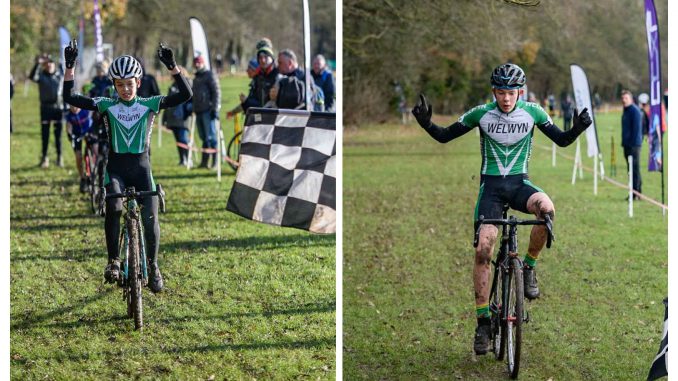 The 2019 National Trophy Series and Central CX Leagues both wrapped up at the weekend with Welwyn Wheelers well represented at each event.
Leon Atkins (U12) and Ethan Storti (U14) were both victorious at Corby on Saturday – their wins on the day matching their final overall positions at the top of the Central league. A total of 34 Wheelers have competed in an excellent CCXL this season – Iona Moir, Katie Allsop, Rupert Cavill, and Lucy Allsop will also be collecting overall medals at the league's prize giving event in January.
A squad of 5 made it to York on Sunday for round 6 of the National Trophy where conditions were again wet and slippy. Ellen Bennett, Joe Kiely and Euan Woodliffe all achieved places in the top ten and Joe's 4th place was sufficient to get a subsequent, and well deserved, first call-up to the GB team racing in this Sunday's UCI World Cup at Namur.
The next CX bike outing for most Wheelers is the annual Christmas Ride (see Whats On). Eastern League CX continues on Jan 5th 2020 with the National Championships following at Shrewsbury the week after.
National Trophy R6 – York
Women
22 Ellen Bennett (6th Junior)
Junior Men
4 Joe Kiely
52 George Gould
Under 14 Girls
19 Lucy Allsop
Under 16 Boys
6 Euan Woodliffe
CCXL R12 – Corby
Women
10 Iona Moir (2nd Junior)
U16 Boys
4 Nathan Hardy
5 Calum Moir
6 Toby Brown
7 Caelan Miller
U14 Boys
1 Ethan Storti
3 Finlay Woodliffe
5 William Pollard
U14 Girls
2 Lucy Allsop
U12
1 Leon Atkins
5 Elijah Storti
11 Henry Landon
12 Katie Allsop (3rd Girl)