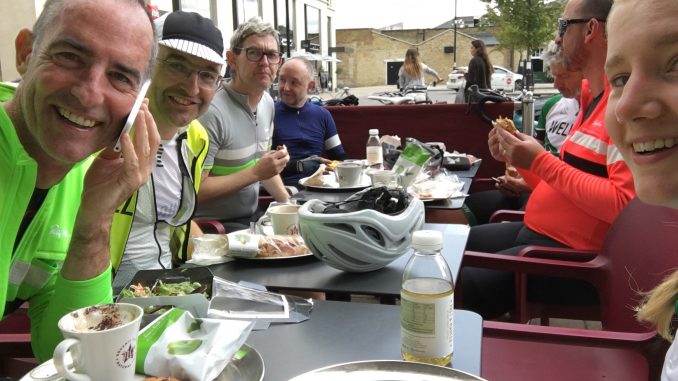 Bike rides, like episodes of Friends, tend to be remembered for their most memorable moments. Those which involve unintended rider immersion are no exception. There was for example the club run, years ago with Nick Brown's dive into the ford at Markyate. There was Oli Stockwell (I think?) on the off-road ride and the flooded track to the John Bunyan. So Monday's ride to Cambridge will be remembered for Peter Anstey, the ford at Hinxton, and a foot bridge not taken.
Eight Wheelers had set off from Datchworth under cloudy but not cold skies for a pleasant but uneventful journey on the Ashwell-Barrington route, with a welcome tail wind. The day's destination was Girton College, future residence of one Elspeth Grace, and after a seemingly endless section of bike paths across motorways and through building sites (i.e. West Cambridge), we arrived at the Victorian Gothic edifice. Girton not having much in the way of cafés, we then took a detour via the guided bus route (completely free of guided buses – perhaps the drivers were also on holiday) into the tourist hell that is Cambride City Centre. No pleasant-looking eateries presented themselves and we cycled as far as the Pret a Manger at the railway station before deciding that was as good as it was going to get, for lunch. At least the sun came out.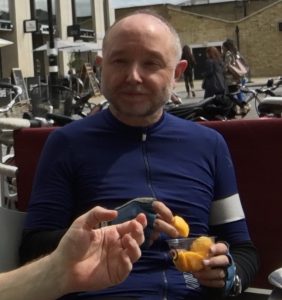 The fateful loop home left Cambridge on the southern guided bus route (still free of guided buses) to join the B-roads via the Shelfords to Duxford. It was headwind and line-out down to cross the A505. A short detour allowed us to pass the Sanger Centre, famous for sequencing of the human genome, which seemed appropriate as Elspeth is going to be studying all that biology stuff. Unfortunately as it turned out that same detour required passage of the ford at Hinxton. As is so often the case, the ford looks benign but hides slippery, algae-covered submerged tarmac waiting for the unsuspecting. So it was that the wiser amongst us, while cycling across the adjacent and dry footbridge, heard a splash and turned to see Rapha-clad cyclist partially submerged. Happily no damage except perhaps to pride. Sadly no photos.
This incident did little to slow the charging Peter, who literally steamed up the long drag to Elmdon, perhaps figuring that extra heat output would dry him quicker (or maybe a roast dinner was waiting). Of the seven remaining (John A having peeled off at Bassingbourn), Dave, Julian & Howard decided on a slightly more sedate pace home and headed back via Chishall & Reed. The rest of us dropped south through the lanes to the Pelhams, Braughing and back over Dane End.
All told, a good day out, 160km for most of us, and another anecdote for the locker.