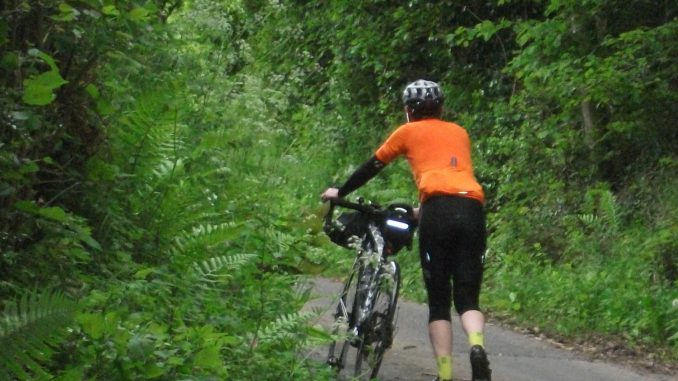 Sunrise, wrong side of another day,
Sky high and six thousand miles away,
Don't know how long I've been awake,
Wound up in an amazing state

Motörhead, "Motörhead", 1977
When Lemmy wrote these lines speed was his inspiration. When Dave Scott recounted them shortly after dawn on our latest 600km jaunt his mind was more altered by distance and sleep deprivation. Twenty-six hours earlier at 5am we had sat fresh faced in a village hall just outside Tewkesbury having a most bizarre pre-ride briefing from the organiser who seemed to think that every person present knew the lanes of west-Wales intimately and when he spoke about a cattle-grid on a left turn some 360km in we knew exactly what he was talking about.
The ride was entitled Benjamin Allen's Summer Outing. I have no idea why; the organiser was called Mark, the ride took place in a season I would describe as indifferent spring and a 600km ride across the hills of Wales is not really an outing.
It all started tamely enough with a run across the Severn plain to the stunning Wye valley and into Monmouth before started the gentle ascent through the Brecon Beacons to the first control at 104km. During the first part of the ride some decent groups formed and unusually for audax rode pretty well together, the weather was fairly nice and by 8am we had got down to short sleeves and shorts. The gentle pattern of ascent continued for another 80km to Llandovery a town made up of antique shops and corpulent motorcyclists. There we had an agreeable bowl of chilli and Andrew Brown told the waitress what his cake was called in Austria – a piece of information that she is no doubt sharing with all her subsequent customers.
Now deep inside what a friend of mine describes as "Welsh Wales" we started to leave the valley roads and had to cross the grain of the hills in the direction of Devils Bridge before losing all the height we had gained to drop down to sea level just touching the West Coast at the Dovey estuary. . We knew that after the comparative metropolis of Machyntlleth there would be no roadside provisions so we had a hearty chicken pie and chips and got dressed into our night time gear.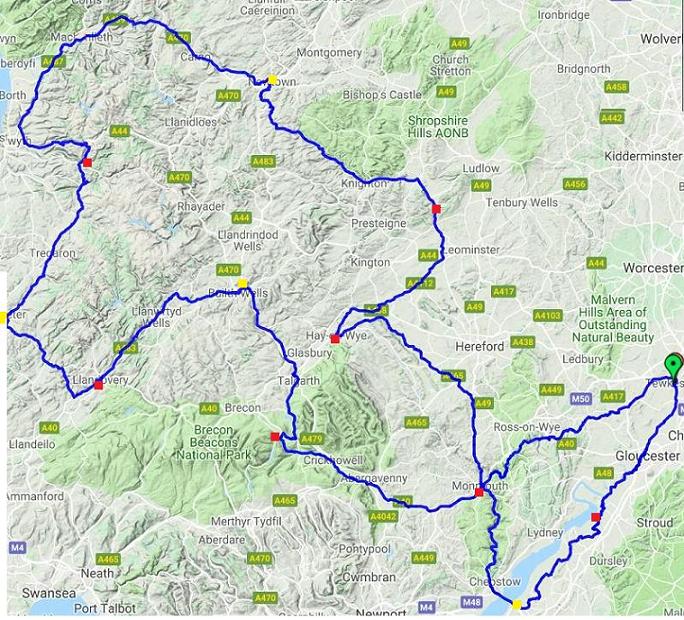 It was 90km to the sleep control and we had covered 310km without too much both, bang on schedule at 15 hrs. We had no idea what was to come. After about an hour of gentle ascent we turned off the main road to an absolute wall of a climb. It was dark so we had no idea where the top was so we just kept climbing. At about 340km climbing 10% plus gradients is a bit taxing. We then lost all our height and started again climbing for over 10km. We just don't have climbs like this in the south of England and we couldn't tell if it would ever end. We knew when it did because we reached the cattle-grid the organiser had told us about 18 hrs before.
A rapid descent followed only interrupted by me falling asleep which is tricky at high speed in the dark and also having to stop and vomit. Needless to say, the overnight control just over the border in England was most welcome. It was a proper audax village hall affair with rice pudding and pasta bake served by volunteers and air beds to crash out on.
Dawn came only too soon and we clambered out of our less-than-luxurious beds. I think I got 2.5 hrs sleep but Andrew said he got none. An audax dormitory is not the most conducive environment; the smell of 80 cyclist sleeping in their kit many of whom are having digestive issues, the snoring, the phone alarms going off and the constant coming and going. Still the rest seems to work and at 6.30 am we were on the road again.
Getting back on a bike at this point is a bit challenging. Everything aches and the enthusiasm of 24 hrs ago has largely dissipated. We were consoled by the thought that the worst climbing was behind us (so we thought) and there was a mere 200km between us and a proper bed and shower.
[embed-google-photos-album "https://photos.app.goo.gl/WkTquNa9a5gcVAxp7"]
A nagging headwind drained the morning of any joy it may have had and after about 30km, Andrew announced his intention to pack and get a train home. Dave and I continued to Hay-on-Wye and then on leaving the town took in a stupidly steep climb – only 5km this time – which saw both of us engage in a short bit of pedestrian activity once the gradient topped 20%.
Imagine our surprise when standing on a service station forecourt 70 km into the day having just finished our pasties and dreadful coffee, our esteemed chairman rolled in. He continued to be enigmatic about his intention to finish and we didn't see him again until the end but eventually riding to the end seemed quicker than catching 4 different trains back to tewkesbury (which doesn't have a station anyway).
A "rolling" section to Monmouth took in a nice mile-long climb that topped out at 16% and then came the fantastic main road out of Monmouth and along the Wye Valley. This idyllic section was cut short due to a road closure between Tintern and St Arvans which made us divert to another 5km climb. It was very pretty but equally unwelcome.
We knew then that all the hills were behind us and after crossing the Severn Bridge and stopping for a cheeky Burger King we had a relatively flat run in along the Severn Estuary, through the middle of Gloucester and back to Bushley just outside Tewkesbury.
It was probably the most challenging audax I have done just in terms of the climbing, particularly as the hard ones came on day 2 or at the end of day 1. Like all these things, it seems fun after you have finished but it may be a while before I do another…
https://www.strava.com/activities/2397413706
https://www.strava.com/activities/2399645184
Alex Peeke
Ben Allen 600km – Postscript
Audaxers are somewhat eccentric (not Dave, Alex and I, but all the other audaxers), but they generally look after each other. So when, on Sunday morning in the back streets of Monmouth, I heard a hell of "wrong way", it was no surprise to come from another rider on the Ben Allen 600km Audax. I had greeted and overtaken the guy, just at the top of the brutal Llan Cloudy climb, and after the decent into Monmouth he had watched me veer off-course, then kindly stopped & shouted to make sure I knew where I was going. I have no idea who he was (his jersey was just "PBP" – Paris-Brest-Paris, the daddy of audax events; audaxers wear no numbers). But he certainly had local knowledge – his rowing club was at that instant competing in a regatta, on the Wye, in Monmouth, within 100yds of my mis-turn, and he suggested I join their BBQ. Hungry, and never one to argue with a coincidence so bizarre, I accepted the offer. Thanks to the unknown audaxer for a burger and free advice about avoiding the closed road at Tintern, whilst spectating the Women's quadruple sculls.
Earlier that morning I had come very close to packing: the combination of no sleep, pain-in-the-neck and 30km of headwind through a grey & uninspiring landscape made the prospect of 175 km (after 430km already) just too daunting. I had called a halt and resolved to take the train from Hereford, saying goodbye to Dave and Alex who would no doubt hammer up the road not to be seen before the pub in Tewkesbury. But Hereford was miles away; Hay-on-Wye was much closer at 8km, and still on the official route (and on my .gpx). And, crucially, the sun came out. So after a few minutes faffing (an official AUK term) I followed gently in Dave/Alex's wake. Hay-on-Wye turned out to be hosting a hippie-music festival and at 8am on Sunday was quite mobbed, every café in the town was open, I even had to search out one without a large queue. Coffee and bacon roll later, I checked Google Maps to learn that the next official Control on the route was quite close to Hereford, so (thanks again to .gpx) my easiest option was to keep following the route. (I also resorted to pedestrian on the steep lane behind Hay-on-Wye, but coffee and 600mg of ibuprofen were kicking in and I was gradually feeling more human). Who should be at the next control, a 24-hr service station, but Dave and Alex, just leaving! I said hello & goodbye again, since I was still planning on the Hereford train get-out. But my app suggested the Hereford-Worcester train was the one bound to Paddington, likely to need a booking for bikes, and Monmouth was about the same distance as Hereford, and Chepstow had local trains and was along a flat river from Monmouth……it seemed very logical at the time that I should just keep going along the official route a while longer. Then I met the Mr PBP, and with a burger inside me, spirits were almost high. Spirits took a distinct downturn in Tintern: the flat valley road was closed, my options were a bike-path in the rain, which I was keen to avoid (punctures) or the nasty climb up to St Briavels and descent into the Severn valley, to get to Chepstow. I took the St Briavels route – tough but a fantastic drop into Chepstow, with the Severn Bridge on view. The geography was now obvious: the official route headed north-east along the east side of the Severn, and with a brisk tail-breeze, ought to be "easy"……it seemed very logical at the time that I should just keep going along the official route a while longer – across the Severn Bridge and into the last 70km – much easier than 170km! Who should be at the next control, a canal-side cafe, but Dave and Alex, just preparing to leave! I said hello & goodbye again, not wanting to hold up their progress. I was feeling good by now (who doesn't with a strong tailwind?), but still ready for the end. The last 10miles from Gloucester to Tewkesbury were the longest I've ever ridden, and also on the fastest busiest road of the whole 2 days. I've learnt that I really take a long time to warm-up on these long rides: I feel rough at the beginning every time, but I feel good 300km later. I'm sure I'm not eccentric enough to be a real audaxer, but if I can avoid rooms full of 120 squeeking airmats (maybe a Travelodge??) I just might do it again one day.
PS Gugelhupf is an Austrian cake, made using a distinctive circular mould (like a jelly mould). When my Austrian partner's mother makes Gugelhupf, the recipe is for what we would call a marble cake, in said mould. The cake we were served in Llandovery was described as "Austrian Coffee Cake" and was indeed a marble-style recipe, but not made in the circular mould. Therefore, I was probably mistaken to inform the waitress that this was Gugelhupf. I was probably hallucinating, but apologise for any confusion this caused.
Andrew Brown
David Scott writes:
Ben Allen 600km Audax – Possibly the truth
We got up early on Saturday morning and went for a bike ride. We occasionally briefly stopped.
Then it was dark. In an attempt to save time Alex tried sleeping on his bike. Despite considerable practice during several previous Addaxes this technique still isn't working quite as well as Alex would like…. We fumbled up and down some stupidly steep climbs in the dark. To make the climbs easier Alex tried emptying his stomach – this a technique that only the most experienced athlete should try.
We stopped had a snooze and got up even earlier than the morning before and started riding. The roads were lumpy and weren't doing any work for us.
Dr. B said something along the lines of "bugger this I'm off" and off he went.
Alex and me went up and down even more hills. Dr. B appeared at a service station and then disappeared.
Later that afternoon he wandered into cafe we were sitting in before disappearing again. His final re-appearance was
in the in the hotel garden clutching a pint – or did Alex and me spend the weekend hallucinating Andrew's presence?A