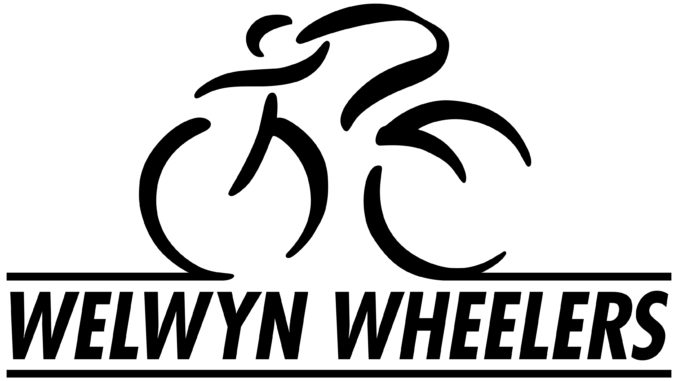 The Club track Championships for Under 10,12 and 14 was run at Gosling Sports Park on Wednesday 28th June. 23 riders were there for the 4 event Omnium – time trial, elimination race, sprint and scratch race.
Under 14 – 9 riders
The opening two lap time trial was won by Joe Kiely, Michal Sumner, Euan Woodlife and Tom Sharples had a close battle in the first heat with Michael Sumner just edging out the Euan and Tom.
Joe Kiely rode away from the field in the Elimination race for win number two with the minor places going to Michael, Tom and Euan. These four riders lined up for the one lap sprint – in a close finish Tom crossed the line first was relegated to fourth place for not holding his line and impeding the other riders. Euan was placed first, Joe second and Tom fourth. In the final 6 lap scratch race Joe Kiely attacked in the first few laps while Michael, Euan and Tom rode a tactical battle and finished in that order.
There were three girls in the combined under 14 group – Ellen Bennett, Eva McCabe and Sasha Blendis. Ellen finished in 5th place in each of the 4 races to take the prize for the first girl.
The final result – 1 Joe Kiely (5pts), 2 Michael Sumner (9pts) 3 Euan Woodliffe (11pts) 4- Tom Sharples (15pts), 5 – Ellen Bennett (20pts) 6 – Eva McCabe (26pts), =7th – Max Jackson/Toby Brown 9th – Sasha Blendis
Under 12 – 9 riders
Cormac Nisbet won the one lap time trial from Thomas Dixon/Tom Oliver tied for third place. Cormac also won the Elimination race with Dylan Starkey second and Thomas Dixon third. In the 4 up Sprint Dylan won from Thomas, Cormac and Tom. In the 4 lap scratch race the race was stopped when Cormac crashed in lap 2 but after being patched up by the First Aider (Ben Smith) he started in the rerun. Dylan won the scratch race followed in by Cormac, Thomas, Tom and Beth Bennett.
The final results – 1 Cormac Nisbet (7pts), 2 – Dylan Starkey (8pts) 3 Thomas Dixon (10pts) 4- Tom Oliver (15pts) 5 – Beth Bennett (20 pts) first girl, 6 –Jeremy Landon, 7- Anya Jenkins, 8 – Harry Oglethorpe, 9th – Finlay Stevenson
Under 10 – 5 riders
This proved to be a battle for the top two places between Fin Woodliffe and Rupert Cavill. The remaining three riders Henry Landon, William Jenkins and Elice Whittaker found themselves competing for the minor places.
Fin won each of the 4 races closet followed by Rupert.
Final results – 1 – Fin Woodliffe (4 pts) 2 – Ruprt Cavill (8pts) 3 – Henrt Landon, 4 – William Jenkins, 5- Elice Whittaker
It was good to see so many riders competing for the various club trophies (which will be presented at the next awards evening in early 2018).
Our thanks to the various time keepers, holders, judges, scorers, first aiders, bike builders etc who offered their services for the evenings racing and made it all possible
P and S