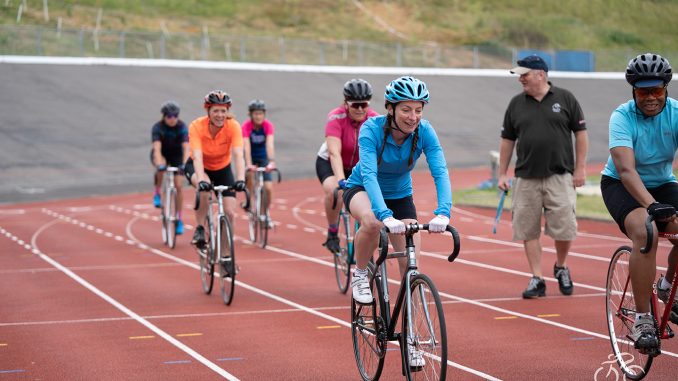 Women's Officer – Ellie Cadzow
Email: women@welwynwheelers.org.uk
Welwyn Wheelers welcomes women from all communities of all ages. It doesn't matter if you're keeping fit, young at heart, wise beyond your years, or baffled by gears. Every woman is welcome to ride. We are an inclusive club and do not discriminate on any grounds.
Welwyn Wheelers aspires to engage more women into cycling – inspiring and supporting women on every pedal stroke of their journey.
Based at the Velodrome at Gosling Sports Park in Welwyn Garden City and in affiliation with British Cycling, we aim to make cycling more accessible and build confidence in women across all communities.
Welwyn Wheelers has a team of dedicated British Cycling accredited coaches to support women that want to ride, race and develop their skills and knowledge in cycling.
What do we offer?
Velodrome track cycling:
We offer the opportunity to cycle on the outdoor velodrome using fixed geared bikes in the summer months and road bikes on track from Autumn to Spring. We facilitate the summer track league and would love to see more women join us in our fun, friendly races or just to be with us to watch and support the cyclists with our freshly baked cakes.
Cyclo-cross:
We have a specially designed cyclocross course situated around the velodrome. This course is open to all, from beginners developing bike handling skills and fitness to the advanced cyclists perfecting their skills.
Cycling off-road:
As the warmer weather leaves us we start our Saturday morning rides that explore those off-road country tracks throughout Hertfordshire, be it on a cross bike or mountain bike.
Road cycling:
We have a regular once monthly road ride for the competent cyclist. This ride supports those building on their fitness or those that just want to explore the lanes whilst meeting up with old and new friends.
Let's Ride:
We have our very own Loraine who organises regular British Cycling affiliated Breeze rides. These rides offer fun and friendly social rides. Here you'll discover new places to ride. Gain confidence as a group. Make new friends. Do things you never knew you could. And have a lot of fun. See https://www.letsride.co.uk/breeze or download our PDF for more details.