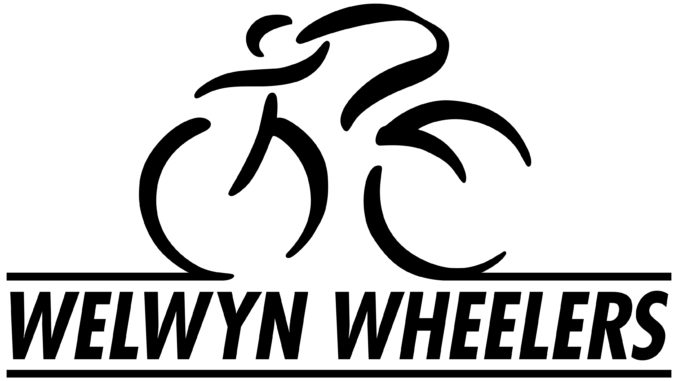 WELWYN TRACK LEAGUE – 7th August 2015
Sponsored by Peloton Hatfield
Joshua Roberts Has A Good Night
07/08/15 at Welwyn Wheelers track league meeting Sponsored by Peloton Hatfield and supported by Herts County Council.
The senior A racing saw Joshua Roberts (Zappis Racing Team) have a good night placing in every race and out sprinting John McClelland (Bush Healthcare CRT) in the 10 miler.
The performance of the night went to Tom Durkin (Welwyn Wheelers) who tried and tried in the 10 miler to jump from the B group to the back of the A group. Durkin rode on the front for 14 laps picking up the primes but was eventually swept up by the B group.
The senior B racing was dominated by James Ambrose-Parish (Lea Valley) winning every race.
The youth AB racing was dominated by Alexi Edwards (Palmer Park) winning every race.
In the youth CDE racing, Joe Kiely (Welwyn Wheelers) won all races bar the 1 lap sprint which was well taken by Michael Sumner (Welwyn Wheelers).
Senior A
10 lap Scratch – John McClelland (Bush Healthcare CRT) Kristian Woolf King (Cliffe Flyers CC) Joshua Roberts (Zappis Racing Team) Glenn O'Brien (CC Luton)
Devil – Joshua Roberts (Zappis Racing Team) John McClelland (Bush Healthcare CRT) Kristian Woolf King (Cliffe Flyers CC) Michael Parry (Welwyn Wheelers)
10 Lap Block Pursuit –Bradley Clark (Green Arrow CRT) Joshua Roberts (Zappis Racing Team) Kristian Woolf King (Cliffe Flyers CC) John McClelland (Bush Healthcare CRT)
10 Mile Scratch – Joshua Roberts (Zappis Racing Team) John McClelland (Bush Healthcare CRT) Kristian Woolf King (Cliffe Flyers CC) Michael Parry (Welwyn Wheelers)
Senior B
10 lap scratch – James Ambrose-Parish (Lee Valley) Michael Skipsey (SD RT) Toby Miles (Welwyn Wheelers) Ben Selfe (Lee Valley)
Devil – James Ambrose-Parish (Lee Valley) Ben Webster (Welwyn Wheelers) Michael Skipsey (SD RT) Tom Durkin (Welwyn Wheelers)
Block Pursuit – James Ambrose-Parish (Lee Valley) Ben Webster (Welwyn Wheelers) Michael Skipsey (SD RT) Ben Selfe (Lee Valley)
Youth AB
8 Lap Scratch – Alexi Edwards (Palmer Park) Kat Anderson (Welwyn Wheelers) Sam Asker (Welwyn Wheelers)
Devil – Alexi Edwards (Palmer Park) Oliver Stockwell (Welwyn Wheelers) Sam Asker (Welwyn Wheelers)
6 Lap Block Pursuit – Alexi Edwards (Palmer Park) Oisin Murphy (Hillingdon Slipstreamers) Ritchie Selfe (Lee Valley)
7 Lap Handicap – Alexi Edwards (Palmer Park) Sam Asker (Welwyn Wheelers) Dexter Mansel-Thomas (Colchester Rovers) Ritchie Selfe (Lee Valley)
Youth CDE
3 lap Scratch – Joe Kiely (Welwyn Wheelers) Joseph O'Brien (Hillingdon Slipstreamers) Michael Sumner (Welwyn Wheelers)
4 Lap Points – Joe Kiely (Welwyn Wheelers) Joseph O'Brien (Hillingdon Slipstreamers) Michael Sumner (Welwyn Wheelers)
1 Lap Dash – Michael Sumner (Welwyn Wheelers) Joe Kiely (Welwyn Wheelers) Joseph O'Brien (Hillingdon Slipstreamers)
3 Lap Scratch – Joe Kiely (Welwyn Wheelers) Michael Sumner (Welwyn Wheelers) Joseph O'Brien (Hillingdon Slipstreamers)