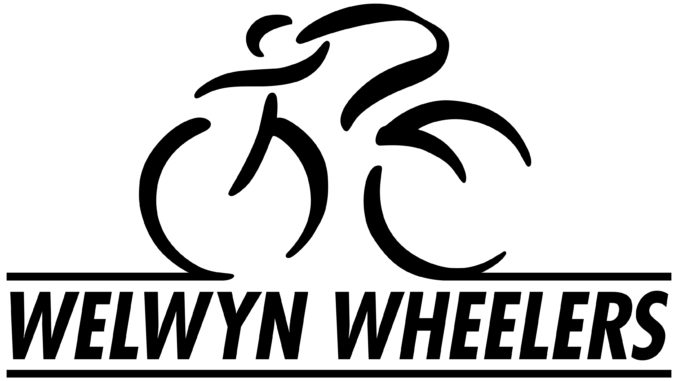 WELWYN TRACK LEAGUE – 22nd MAY 2015
Sponsored by Peloton Hatfield
What do you mean no 10 miler !?!?!
22/05/15 at Welwyn Wheelers track league meeting Sponsored by Peloton Hatfield and supported by Herts County Council saw the lowest numbers this year. With only 23 youth riders and 38 senior riders, which was put down to the bank holiday weekend and school half term.
Unfortunately, the absentees missed a major change in the senior racing programme – the 10 mile race which traditionally rounds off the evening was replaced with a 35 laps point's race.
It was the first outing in the Peloton Hatfield yellow leader's jersey for John McClelland (Bush Healthcare CRT). He did the jersey proud winning the senior A devil and the senior 35 laps points race at the end of the evening. This was by far the most exciting race of the evening, with Andrew Hastings (Richardson's Trek RT) pushing McClelland hard all the way to the end.
Home rider Keith Bryceland (Welwyn Wheelers) had a good evening in the senior B's placing in all the races and winning the scratch race.
The youth racing was set alight by the youth CDE block pursuit, which was won by Euan Woodliffe (Welwyn Wheelers). This was an extremely close race and was only won by a wheel length by the trio led by Woodliffe, when at half way Joe Kiely (Welwyn Wheelers) was out on his own and leading by around ¼ of a lap. Kiely did win the youth CDE scratch and devil.
The youth A racing was dominated by Ryan Green (Lee Valley), in a real show of strength winning all category races with ease. This feat was nearly emulated by Ollie Stockwell (Welwyn wheelers) in the youth B, but he was pipped in the final race of the evening by Eleanor McArdle (Welwyn Wheelers).
Senior A
10 lap Scratch –Joshua Roberts (Zappis RT) John McClelland (Bush Healthcare CRT) George Olive (Finchley RT) William Raymond (Welwyn Wheelers
Devil – John McClelland (Bush Healthcare CRT) William Raymond (Welwyn Wheelers) Mitchell Powell (Team Terminator) Ethan Vernon (Corley Drops RT)
10 lap Scratch – George Olive (Finchley RT) Andrew Hastings (Richardson's Trek RT) Joshua Roberts (Zappis RT) Ethan Vernon (Corley Drops RT)
35 Lap Points – John McClelland (Bush Healthcare CRT) Andrew Hastings (Richardson's Trek RT) Joshua Roberts (Zappis RT) Mike Broadwith (Arctic Tacx RT)
Senior B
10 lap scratch – Keith Bryceland (Welwyn Wheelers) Bradley Clark (Green Arrow CRT) Tony Marriott (Hertfordshire Wheelers) Sam Alison (Singular Cycles)
Devil – Andrew Perrin (Finchley) Cai Davies (Welwyn Wheelers) Keith Bryceland (Welwyn Wheelers) Tom Durkin (Welwyn Wheelers)
Unknown Distance – Cai Davies (Welwyn Wheelers) Andrew Perrin (Finchley) Keith Bryceland (Welwyn Wheelers) Toby Miles (Welwyn Wheelers)
Youth A
5 lap Scratch – Ryan Green (Lee Valley) Ben Selfe (Lee Valley) Matthew Shepherd (Lee Valley)
8 lap points – Ryan Green (Lee Valley) Matthew Shepherd (Lee Valley) Ben Selfe (Lee Valley)
8 Lap block pursuit – Ryan Green (Lee Valley) Matthew Shepherd (Lee Valley) Reece Pollen (Welwyn Wheelers)
8 lap handicap – Ryan Green (Lee Valley) Matthew Shepherd (Lee Valley) Ben Selfe (Lee Valley) Nathan Blackmore (Welwyn Wheelers)
Youth B
4 lap Scratch – Ollie Stockwell (Welwyn Wheelers) Oisin Murphy (Hillingdon Slipstreamers) Sophie Lewis (CC Ashwell)
6 lap points – Ollie Stockwell (Welwyn Wheelers) Sophie Lewis (CC Ashwell) Oisin Murphy (Hillingdon Slipstreamers)
6 lap block pursuit –Ollie Stockwell Oisin Murphy (Hillingdon Slipstreamers) Eleanor McArdle (Welwyn Wheelers)
6 lap handicap – Eleanor McArdle (Welwyn Wheelers) Sophie Lewis (CC Ashwell) Lauren Higham (Welwyn Wheelers) Freya Butler (Welwyn Wheelers)
Youth CDE
3 lap Scratch – Joe Kiely (Welwyn Wheelers) Tom Sharples (Welwyn Wheelers) Rudy Knight (Lee Valley)
Devil – Joe Kiely (Welwyn Wheelers) Michael Sumner (Welwyn Wheelers) Euan Woodliffe (Welwyn Wheelers)
4 Lap block pursuit – Euan Woodliffe (Welwyn Wheelers) Ted Brett (Welwyn Wheelers) Emily Knight (Lee Valley)
4 lap handicap – Jenna Miles (Welwyn Wheelers) Joe Kiely (Welwyn Wheelers) Michael Sumner (Welwyn Wheelers) Euan Woodliffe (Welwyn Wheelers)