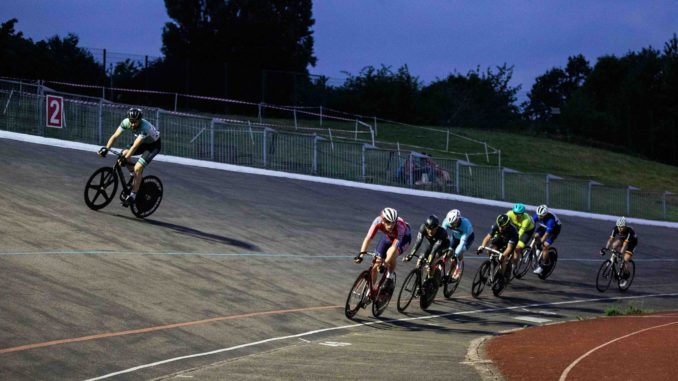 Congratulations to all this year's winners of the Welwyn Track League series. Despite a lot of early season rain, which always seemed to occur on Friday evening, 11 league events were possible.
John McClelland (AeroLab Ward Wheelz) won the Senior A category in a close fought contest. At the start of the final meeting he led Oisin Murphy (VC Europe) by 6 points but by winning the 10 lap scratch and the final 10 mile he could not be caught and retained the series.
The Senior B league was won by Michael Sumner (VCL) from Lee Rowe (Team Terminator) and Paul Stewart (Full Gas Racing Team), tied in second place. Lesley Bodell (Welwyn Wheelers) won the Women's category with Sophie Lankford (Team Jadan-Vive le Velo) in second place.
The two youth groups were won by Henry Hobbs and Elijah Storti (Welwyn Wheelers).
Thanks to all the officials and helpers from Verulam CC and Welwyn Wheelers who combined to run the Track League this year after the blank year of 2020. The numbers have been healthy this year with 140 league members registering and including participation by some of our local stars when not competing internationally. As ever we are keen to increase women's participation and more support is needed in this area.
Prize money will be £2 a point for Senior Riders and 50p per point for youth riders payable when they return their League body number. The final meeting of this year will be the Track Open meeting on Friday 10th Click here to enter (via BC website).
Welwyn Track League Week #11 03/09/21
| | | | | |
| --- | --- | --- | --- | --- |
| League standings | | | | |
| | | | | |
| Youth 2 – Scratch | | No | Pts | |
| 1 | George Nuttall | Welwyn Wheelers | 52 | 3 |
| 2 | Esmee Bone | Welwyn Wheelers | 42 | 2 |
| 3 | Eloise Ward | LVYCC | 47 | 1 |
| | | | | |
| Youth 1 – Scratch | | No | Pts | |
| 1 | Henry Hobbs | Welwyn Wheelers | 4 | 3 |
| 2 | Rupert Cavill | Welwyn Wheelers | 3 | 2 |
| 3 | Elijah Storti | Welwyn Wheelers | 40 | 1 |
| | | | | |
| Senior B – Scratch | | | | |
| 1 | Mark Smith | | 43 | 4 |
| 2 | Andy Perrin | Haste CC | 79 | 3 |
| 3 | Paul Stewart | Full Gas Racing Team | 66 | 2 |
| 4 | Adrian Ward | Team Terminator | 51 | 1 |
| | | | | |
| Senior A – Scratch | | | | |
| 1 | John McClelland | AeroLab Ward Wheelz | 1 | 4 |
| 2 | Oisin Murphy | VC Equipe | 37 | 3 |
| 3 | James Ambrose-Parish | Bikestrong-KTM | 11 | 2 |
| 4 | Joel Stewart | Ohten Aveas | 2 | 1 |
| | | | | |
| Youth 2 – Points | | | | |
| 1 | Daniel Elliot | Welwyn Wheelers | 41 | 3 |
| 2 | Eloise Ward | LVYCC | 47 | 2 |
| 3 | Harry Hater | Welwyn Wheelers | 53 | 1 |
| | | | | |
| Youth 1 – Points | | | | |
| 1 | Henry Hobbs | Welwyn Wheelers | 4 | 3 |
| 2 | Rupert Cavill | Welwyn Wheelers | 3 | 2 |
| 3 | Ben Taylor-Rose | Welwyn Wheelers | 15 | 1 |
| | | | | |
| Senior B – Block Handicap | | | | |
| 1 | Michael Sumner | VC Londres | 25 | 4 |
| 2 | Mark Smith | | 43 | 3 |
| 3 | Paul Stewart | Full Gas Racing Team | 66 | 2 |
| 4 | Andy Perrin | Haste CC | 79 | 1 |
| | | | | |
| Senior A – Points | | | | |
| 1 | Andrew Hastings | Haste CC | 23 | 4 |
| 2 | Joe Keily | UVC Charleville Mezeires | 160 | 3 |
| 3 | Tom Sharples | Welwyn Wheelers | 42 | 2 |
| 4 | Ryan Savage | Finchley Racing Team | 6 | 1 |
| | | | | |
| Youth 2 – Reverse Win-Out | | | | |
| 1 | Daniel Elliot | Welwyn Wheelers | 41 | 3 |
| 2 | Joshua Halden | Welwyn Wheelers | 49 | 2 |
| 3 | Harry Hater | Welwyn Wheelers | 53 | 1 |
| | | | | |
| Youth 1 – Reverse Win-Out | | | | |
| 1 | Henry Hobbs | Welwyn Wheelers | 4 | 3 |
| 2 | Rupert Cavill | Welwyn Wheelers | 3 | 2 |
| 3 | Finlay Stephenson | Welwyn Wheelers | 19 | 1 |
| | | | | |
| Senior B – Reverse Win-Out | | | | |
| 1 | Mark Smith | | 43 | 4 |
| 2 | Paul Stewart | Full Gas Racing Team | 66 | 3 |
| 3 | Adrian Ward | Team Terminator | 51 | 2 |
| 4 | Joshua Maynard | CUCC | 97 | 1 |
| | | | | |
| Senior A – Hares & Hounds | | | | Hare |
| 1 | Matthew Davey | Verula reallymoving.com | 9 | 4 |
| 2 | Tom Sharples | Welwyn Wheelers | 42 | 3 |
| 3 | James Ambrose-Parish | Bikestrong-KTM | 11 | 2 |
| 4 | Oisin Murphy | VC Equipe | 37 | 1 |
| H | Jack Charlton-Hunt | LVYCC | 86 | 1 |
| | | | | |
| Youth – 2 H'cap | | | | |
| 1 | Harry Hater | Welwyn Wheelers | 53 | 3 |
| 2 | Joel Kaye | Welwyn Wheelers | 44 | 2 |
| 3 | Joshua Halden | Welwyn Wheelers | 49 | 1 |
| | | | | |
| Youth – 1 H'cap | | | | |
| 1 | Henry Hobbs | Welwyn Wheelers | 4 | 3 |
| 2 | Finlay Stephenson | Welwyn Wheelers | 19 | 2 |
| 3 | Samuel Stacey | Verulam CC | 16 | 1 |
| | | | | |
| Senior – 10 Mile Scratch | | | | |
| 1 | John McClelland | AeroLab Ward Wheelz | 1 | 4 |
| 2 | James Ambrose-Parish | Bikestrong-KTM | 11 | 3 |
| 3 | Oisin Murphy | VC Equipe | 37 | 2 |
| 4 | Andrew Hastings | Haste CC | 23 | 1 |