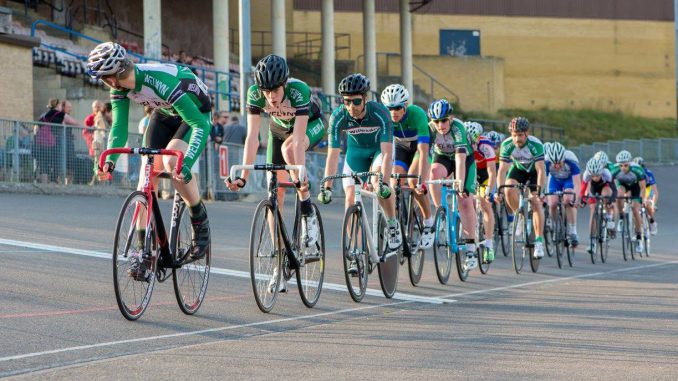 WELWYN TRACK LEAGUE – 12TH JUNE 2015
Sponsored by Peloton Hatfield
Rain Stops Play
 12/06/15 at Welwyn Wheelers track league meeting Sponsored by Peloton Hatfield and supported by Herts County Council saw 26 senior riders and 19 youth riders take part in fiercely contested racing.
The senior race program was cut short due to a very heavy down poor late in the evening which meant the 10 mile race could not be run.
 The senior A racing was very open with wins for John McClelland (Bush Healthcare CRT) and Mike Broadwith (Artic Tacx RT) with Joshua Roberts (Zappis Racing Team) pushing them hard.
 Ryan Green (Lee Valley CC) had another good night in the senior B's picking up wins in the scratch and holding off the A riders for a win in the handicap.
 Alexi Edwards (Palmer Park) rode strongly in the youth AB, with very strong rides winning the scratch and handicap.
 The highlight of the race evening was the youth AB block pursuit which saw a great ride byChristian Manzi (Lee Valley), Ollie Stockwell (Welwyn Wheelers) and Reece Pollen (Welwyn Wheelers), who held off a charging Alexi Edwards (Palmer Park) in a nail biting final half lap.
Tom Sharples (Welwyn Wheelers) dominated the youth CDE racing winning all but the handicap.
Senior A
10 lap Scratch –John McClelland (Bush Healthcare CRT) Joshua Roberts (Zappis RT) Joel Stewart (Kenton CC) Ethan Vernon (Corley Drops)
10 Lap Handicap – Mike Broadwith (Artic Tacx) Cameron Gutteridge (Finchley RT) Michael Parry (Welwyn Wheelers) George Olive (Finchley RT)
Devil – John McClelland (Bush Healthcare CRT) Joshua Roberts (Zappis RT) Ethan Vernon (Corley Drops) Mike Broadwith (Artic Tacx)
Senior B
10 lap scratch – Ryan Green (Lee Valley) Chris Burns (Welwyn Wheelers) Ben Webster (Welwyn Wheelers) Bradley Clark (Green Arrow CRT)
10 Lap Handicap – Ryan Green (Lee Valley) Ben Webster (Welwyn Wheelers) Bradley Clark (Green Arrow CRT) Ben Selfe (Lee Valley)
Devil – 158??? Ben Selfe (Lee Valley) Ben Webster (Welwyn Wheelers) Chris Lodge (Finsbury Park CC)
Youth AB
7 Lap Scratch – Alexi Edwards (Palmer Park) Christian Manzi (Lee Valley) Nathan Blackmore (Welwyn Wheelers)
1 Lap Dash – Christian Manzi (Lee Valley) Nathan Blackmore (Welwyn Wheelers) Josh Murad (EHF Velo Pro)
8 Lap Block Pursuit – Christian Manzi (Lee Valley) Ollie Stockwell (Welwyn Wheelers) Reece Pollen (Welwyn Wheelers)
7 Lap Handicap – Alexi Edwards (Palmer Park) Archie Peet (Team MK) Ollie Stockwell (Welwyn Wheelers) Ritchie Selfe (Lee Valley)
Youth CDE
3 lap Scratch – Tom Sharples (Welwyn Wheelers) Michael Sumner (Welwyn Wheelers) Joe Kiely (Welwyn Wheelers)
Devil – Tom Sharples (Welwyn Wheelers) Michael Sumner (Welwyn Wheelers) Rudy Knight (Lee Valley)
4 Lap Hare, Fox & Hounds – Tom Sharples (Welwyn Wheelers) Joe Kiely (Welwyn Wheelers) Michael Sumner (Welwyn Wheelers)
4 Lap Handicap – Brody Knight (Lee Valley) Tom Sharples (Welwyn Wheelers) Joe Kiely (Welwyn Wheelers) Michael Sumner (Welwyn Wheelers)