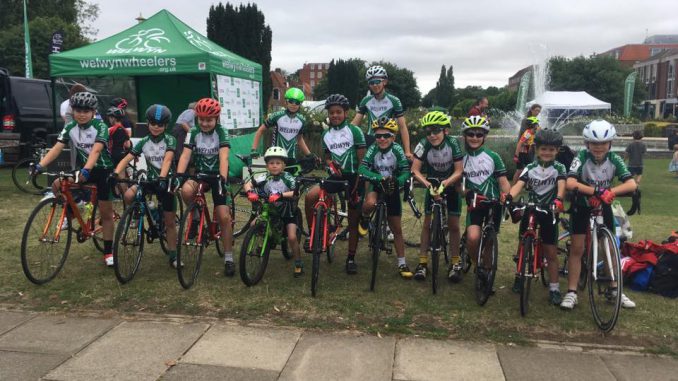 A very busy Sunday for the Wheelers riders and officials as the host club for the 2017 Welwyn Petit Tour run in the centre of the town on closed roads. Lots of helpers were needed all day in setting up the course, marshalling the crossing points, judging and organising the racing.
Ten races were run during the day starting with the under 10's and finishing with the senior 2/3 category race. 120 youth riders plus 130 senior riders competed in the various races and in addition there were a number of 'fun events' – a 10 minute scootathon plus a one hour junior 'sportive' where riders rode around the course to compete as many laps as they wished.
Racing got under way at 10.35 and finished at 6-00pm – the course then had to be cleared up, the barriers removed and the roads re-opened by 8-00pm.
In the racing events the Wheelers had some good results – Xavier Knott 2nd in the under 8's, Fin Woodliffe 2nd and Dillon Knott 3rd in the under 10's boys and Elise Whitaker was 2nd in the under 10 girls. Dylan Starkey 3rd and Beth Bennett top girl in the under 12's.
The under 14 race was a Wheelers bonus – National Champion Joe Kiely broke away and lapped the field, Tom Sharples and Euan Woodliffe were 2nd and third for a 1,2,3 result. Lauren Higham won the under 16 girls race.
The under 16 boys race was a bit of a minor disaster when Oli Stockwell and clubmate Joe Bennett crashed into each other and had to leave the race. Jamie Dene finished a creditable third.
Prizes for the youth events were donated by local companies and there were lots of stalls in the central area run by various clubs plus a number of food stalls
In the senior events Rachel Dunne was 8th in the Womens race and Steve Dunne 8th in the Masters race.
A great days racing, a well run event and special thanks to Susi Sharples for her sterling efforts on the day and during the past few weeks in making sure it all went well.
Peter