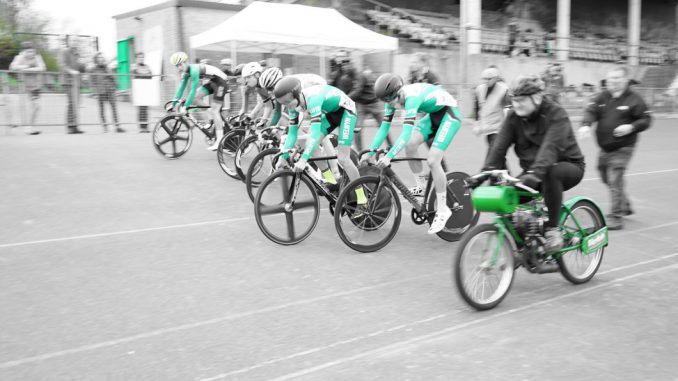 The club were were hosts for Round 1 of the British Cycling Youth Omnium Track series at Gosling Sports Park on Sunday.
Riders in each of the Under 16, under 14 and under 12 competed in five different racing events and the finishing positions in each event were added together to produce the final result. Just under 90 riders competed in the days track events.
Unfortunately rain resulted in early finish as the final event for most groups to be cancelled as the wet track was unsafe for racing.
Tough competition in the 24 strong under 16 group produced some excellent racing – Wheelers Oii Stockwell finished in third place just 8 points behind the winner – Oscar Nielson – Julien (VC Londres).
Tom Sharples was 6th and Rizwan Hameed 8th.
In the under 14 boys group Euan Woodliffe had a battle for top honours with Jed Smithkin (Works factory racing) – Euan won the two lap Time trial and finished second in the other four events to take second place overall in the 24 strong field, Caelen Miller was 8th but lost out due to a puncture in the elimination race
Dylan Starkey took second place in the under 12 boys group with Fin Woodliffe 5th and Tom Dixon 7th.
In the girls series – Iona Moir and Ellen Bennett were 6th and 8th in the under 16 girls series, Beth Bennett and Sasha Blendis 4th and 5th in the under 14 girls,
A well run event by organiser Susi Sharples together with a large band of club parents who assisted in various roles to make a successful event with some top class racing – next Sunday the riders will be at Herne Hill for Round 2 of the series.
Peter